This year will mark our third survey cycle. We know it's the right thing to do, and we've been working hard to act on the feedback from employees but our results haven't budged. How long before we can expect to see a shift?
Hang in there; a long-term perspective will pay off.
To start, it's worth ensuring that you're focused on the 'right' follow-up actions. This is where a third-party perspective can help. Great Place to Work® specializes in high-trust consulting and advisory services that will ensure you're maximizing that investment in culture.
Second. Building trust takes time. This is well illustrated by a professor from the London Business School, Alex Edmans, who spent nearly four years studying longitudinal data from Great Place to Work® to measure the relationship between stock performance and high-trust cultures.
The results were published in a Harvard Business Review article and subsequently filmed as a TEDx Talk.
After accounting for a range of alternative explanations (i.e. industry, size, external factors), Edmans determined that profit does follow purpose; that this isn't a zero-sum game which pits the gains of employees and shareholders against each other.
In making this argument, he quotes Milton Friedman who once famously wrote:
"There is one and only one social responsibility of business – to use its resources and engage in activities designed to increase its profits so long as it stays within the rules of the game, which is to say, engages in open and free competition without deception or fraud."
Edmans notes that without high-quality products, customers will not spend their money. Employees that aren't treated well will leave. And disregard for the environment will negatively tarnish the brand and impact long-term profits. That is to say, a pursuit of profit should (in theory) force companies to care.
But most traditional measures of finance don't account for this so, Edmans undertook an extensive research project to determine if socially responsible firms perform better, using 26 years of data from Great Place to Work®.
What he found was a positive (albeit delayed) impact on returns (by 2 – 3%) for firms that build high-trust cultures and become recognized as a best company. In short, companies that treat their workers better – do better.
What's curious is the 4 to 5-year lag before the benefit of employee well-being is fully recognized in the stock price. Trust takes time to develop. But also, the stock market hasn't traditionally accounted for this measure which provides a further competitive advantage for those who follow this metric.
In his closing, Edmans ponders why businesses exist at all; is it to earn a profit or serve a purpose? His answer is "yes". And we, at GPTW, agree.
Below, is a hypothetical portfolio using this same data, extended through to 2016.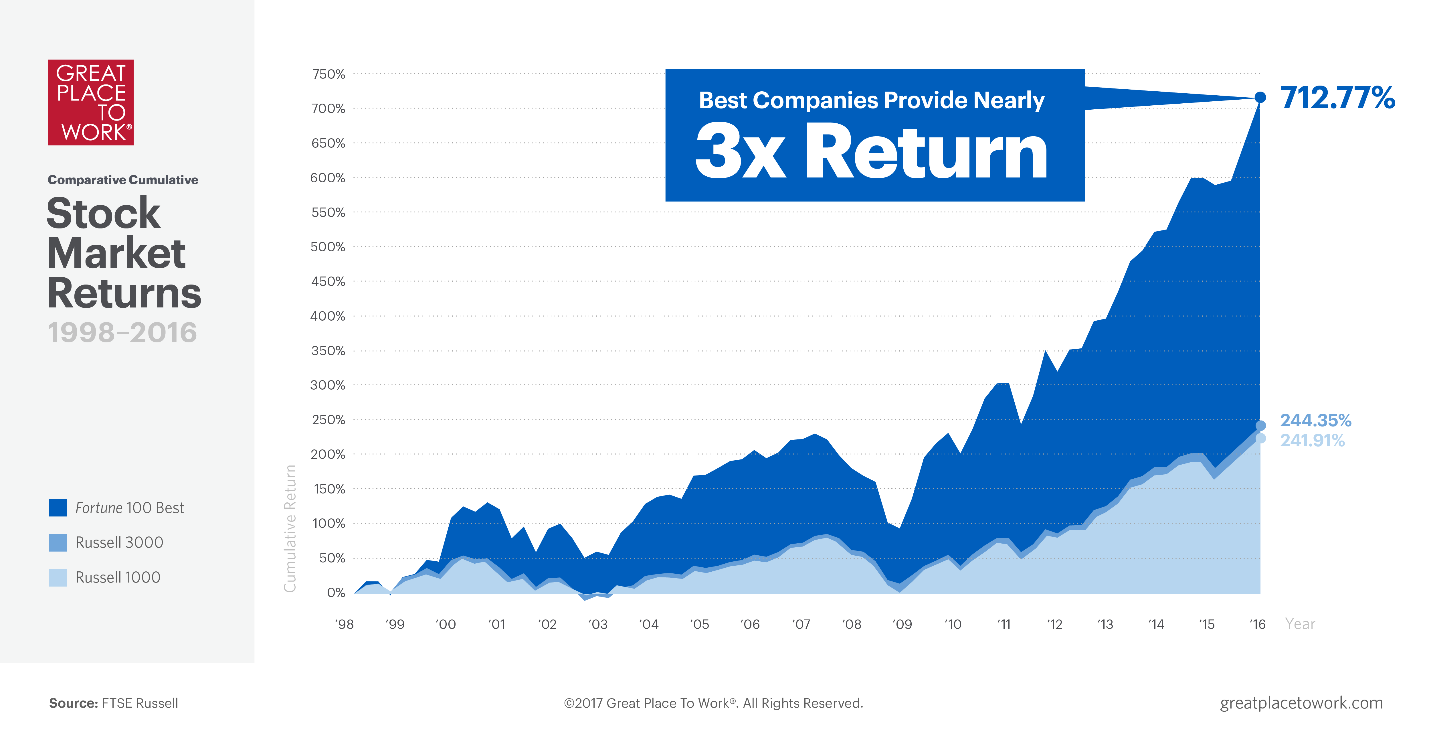 To assess, analyze, and accelerate your corporate culture, contact Great Place to Work® Canada. (866) 712-0630
---