For better or for worse, people managers have the single biggest impact on an organization's performance. And this is especially true at organizations in the Retail and Hospitality sector.
Yes, in any organization the senior leadership team sets the vision and tone for the organization, but people managers are responsible for how this plays out on the front lines. Managers at all levels must understand the pivotal nature of their role in building trusting relationships, engaged employees, and performance excellence.
At the Best Workplaces in Retail and Hospitality, responsive and accessible middle managers help create an environment where employees are encouraged to share their ideas and give their best effort: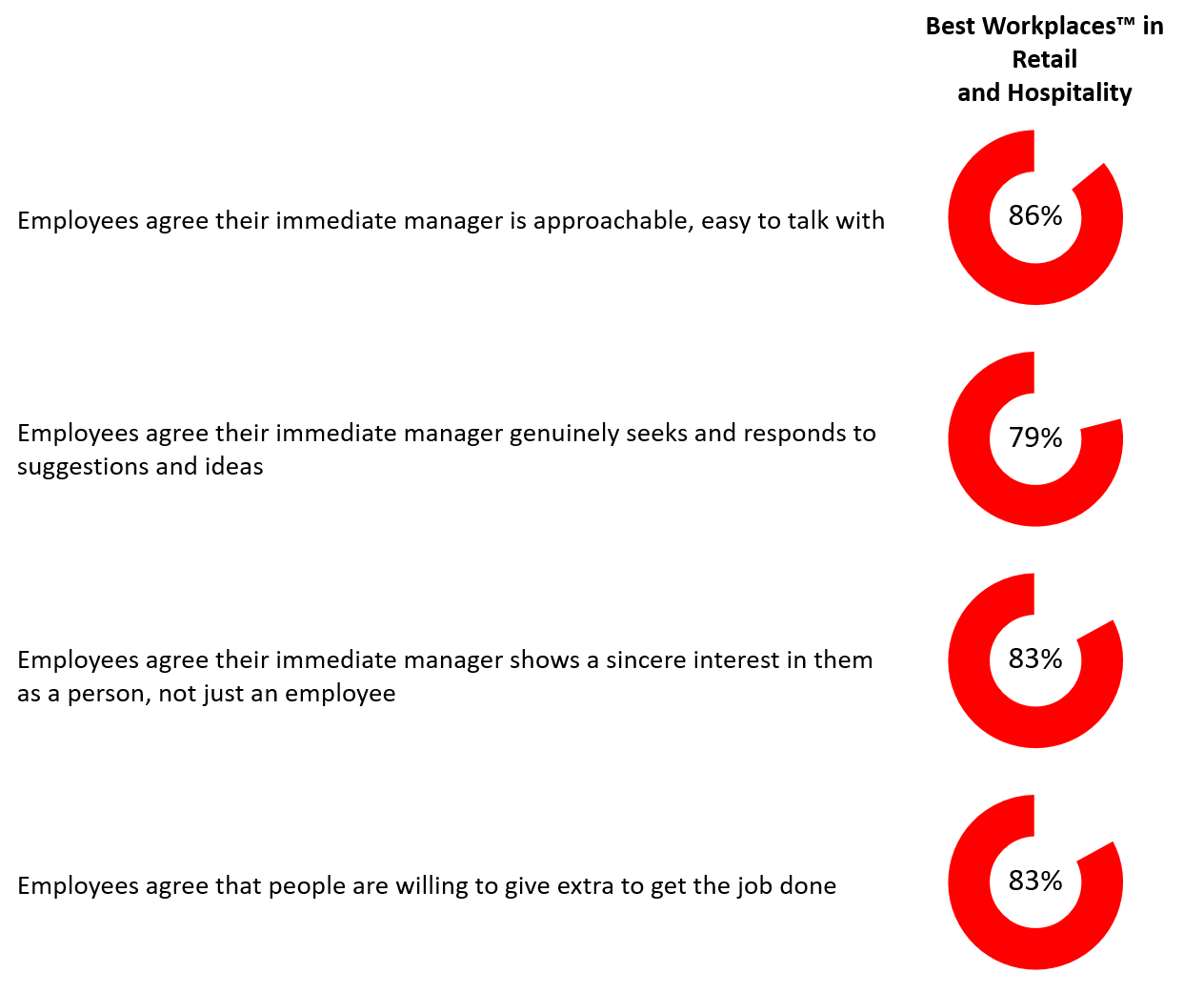 Calgary-based Concorde Entertainment Group is one of Canada's largest and most diverse hospitality companies, with 15 establishments under its banner. They have recently been challenged with implementing the minimum wage hike, which began in Alberta in 2015. Rather than simply increase menu prices or cut labour across the board, they turned to their managers and staff for creative ideas on how to drive new revenue steams or streamline costs. According to Brian Lee, CFO for Concorde Group "We are always open to staff and management suggestions on creative ways to distinguish ourselves in the market". Management and pre-shift meetings take place at all locations to support timely and free flowing communication amongst the teams and is always a time and place to share any suggestions or ideas.
As minimum wage hikes come into place across the country, organizations in all sectors will need to find new revenue streams or cut costs – or both. The best ideas often come from people managers and employees working on the front lines. They just need to be invited to share them
THINK YOUR ORGANIZATION IS A GREAT WORKPLACE?
Register today to become Great Place to Work-Certified™. Get recognized for the outstanding culture you've built or let us help you create a more productive work environment.
ABOUT OUR LISTS
Great Place to Work® publishes a series of Best Workplaces™ lists based on feedback from more than 300,000 employees at Great Place to Work–Certified™ organizations across all industries in Canada. Employees complete an anonymous Trust Index© survey, answering questions about how frequently they experience behaviors that create a great workplace, including, the transparency of communication, degree of collaboration, quality of benefits programs, opportunity for professional development, and support for work-life balance. If 7/10 employees respond positively to the survey, the organization becomes Great Place to Work-Certified™ for one year. Results from the survey are highly reliable, having a 95% confidence level with +/- 5% margin of error.
ABOUT GREAT PLACE TO WORK®
GPTW (www.greatplacetowork.ca) is the global authority on high-trust, high-performance workplace cultures. Through proprietary assessment tools, advisory services, and certification programs, GPTW recognizes the world's Best Workplaces in a series of national lists including those published by Fortune magazine (USA) and The Globe & Mail (Canada). Great Place to Work® provides the benchmarks, framework, and expertise needed to create, sustain, and recognize outstanding workplace cultures.
Follow GPTW online at www.greatplacetowork.ca and on Twitter at @GPTW_Canada
---