Great Place to Work® is pleased to announce the 2017 list of Best Workplaces in Canada for Celebrating Success. To be eligible for this list, organizations must be Great Place to Work-Certified™ in the past year. We determined the BEST based employee responses to 4 key statements related to how the organization recognizes and celebrates individual, team and company success.
At the Best Workplaces for Celebrating Success, almost all employees agree: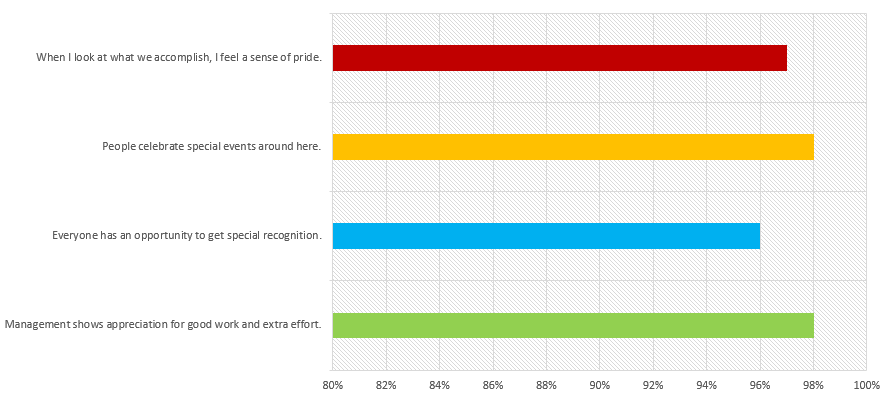 Taking the time to celebrate at work strengthens personal connections and fosters cooperation among colleagues. It also makes coming to work more fun! Learn more about the celebration rituals and traditions at these Best Workplaces and how they foster a culture of success!
SHOW AND TELL
At AppCentrica, one way they recognize the achievements of staff is by holding 'show and tell' sessions. Employees are invited to showcase project successes and outcomes in front of the entire team. They also share feedback from end-users to highlight the impact of their contributions on some of the world's largest organizations. This reinforces AppCentrica's corporate mission, and inspires staff to deliver exceptional work every day.
NEW BEGINNINGS
Habanero is committed to supporting people to thrive in their career and personal lives, and they celebrate individual milestones and accomplishments, even when it means moving to a new organization. When someone leaves Habanero, they send them off with a big party to recognize their past contributions and celebrate entering a new stage in their career. Habanero has a strong alumni network of lifelong friends.
ELEVATOR PITCH-OFF
At Axonify, they believe a little healthy competition drives stronger performance. During last year's 'Elevator Pitch Off', team members were asked to pitch the Axonify platform to a fictional organization. The pitches were filmed, judged by the Executive team and screened at the following quarterly team lunch. All competitors receive lots of praise and kudos for a job well done. Winners receive gift cards and all important bragging rights.
30 YEARS OF STORIES
To celebrate their 30th anniversary, Sklar Wilton hosted an all-day company event to reflect on their history and look toward the future. The founding partners shared 30 years of stories, reinforcing how their business grew: through smart people, living the company beliefs and doing more than expected each day to help their clients succeed. They wound up the day by bringing in outside artists to lead employees in the creation of a 30' mural to capture their company's history.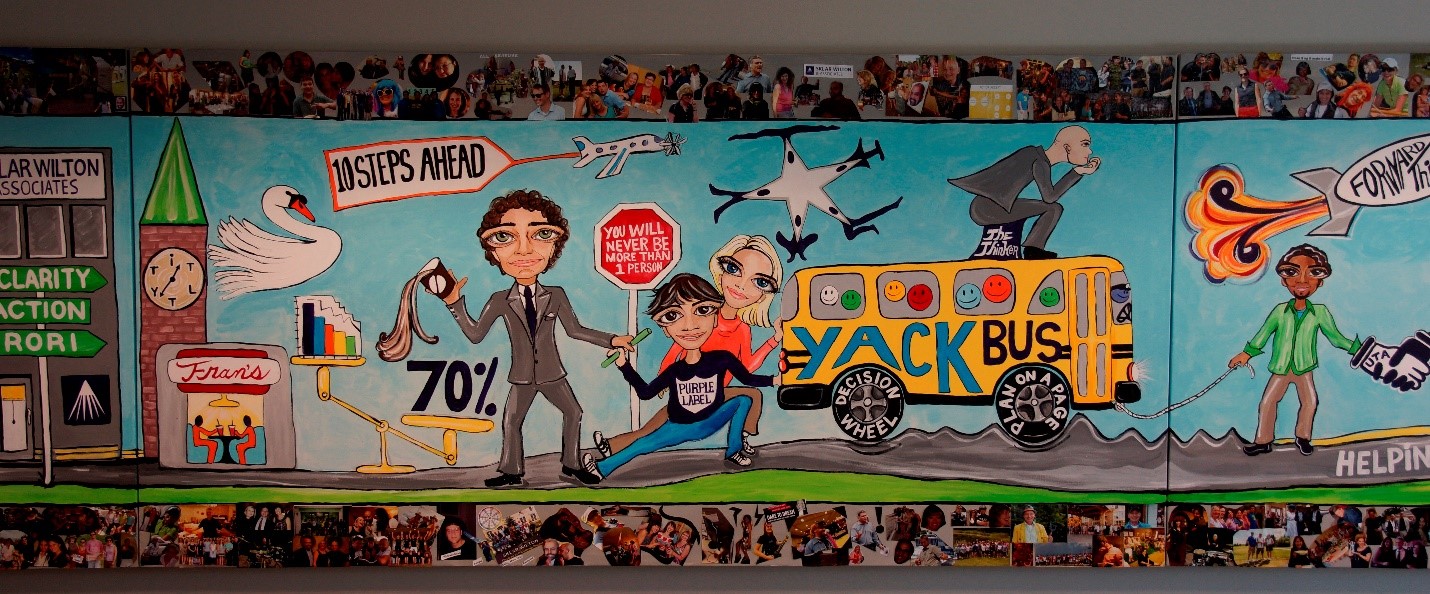 SKLAR WILTON MURAL COMMEMMORATING '30 YEARS OF SUCCESS'. Painting by Michelle Vella and Nancy Macdonald. Photo collaging by the Sklar Wilton Team.
CREATE A CULTURE OF SUCCESS
The Best Workplaces for Celebrating Success remind us what an important role recognition and celebration play in encouraging employees to 'bring their best' to work each day. Employees working in celebratory workplaces not only have more fun at work, but they are more likely to give extra effort and cooperate with co-workers. This results in stronger teams, happier employees and a workplace culture of success.
THINK YOUR ORGANIZATION IS A GREAT WORKPLACE?
Register today to become Great Place to Work-Certified™. Get recognized for the outstanding culture you've built or let us help you create a more productive work environment.
ABOUT OUR LISTS
Great Place to Work publishes a series of Best Workplaces lists based on feedback from more than 300,000 employees at Great Place to Work–Certified™ organizations across all industries in Canada. Employees complete an anonymous Trust Index© survey, answering questions about how frequently they experience behaviors that create a great workplace, including, the transparency of communication, degree of collaboration, quality of benefits programs, opportunity for professional development, and support for work-life balance. If 7/10 employees respond positively to the survey, the organization becomes Great Place to Work-Certified™ for one year. Results from the survey are highly reliable, having a 95% confidence level with +/- 5% margin of error.
ABOUT GREAT PLACE TO WORK
GPTW (www.greatplacetowork.ca) is the global authority on high-trust, high-performance workplace cultures. Through proprietary assessment tools, advisory services, and certification programs, GPTW recognizes the world's Best Workplaces in a series of national lists including those published by Fortune magazine (USA) and The Globe & Mail (Canada). Great Place to Work® provides the benchmarks, framework, and expertise needed to create, sustain, and recognize outstanding workplace cultures.
Follow GPTW online at www.greatplacetowork.ca and on Twitter at @GPTW_Canada