Great Place to Work® is pleased to announce the 2018 list of Canada's Best Workplaces™ for Women. To be eligible for this list, organizations must be Great Place to Work- Certified™ in the past year, have at least 15 female employees and a minimum 90% positive response (from both men and women) to the statement "I am treated fairly regardless of my sex". We determined the BEST based on female employee responses to our Trust Index survey, female advancement within the organization and formal programs that support women.
At the Best Workplaces™ for Women, 62% of non-managers and 48% of mid and senior managers are female. While these organizations have not yet achieved equal representation in the leadership ranks, they are headed in the right direction.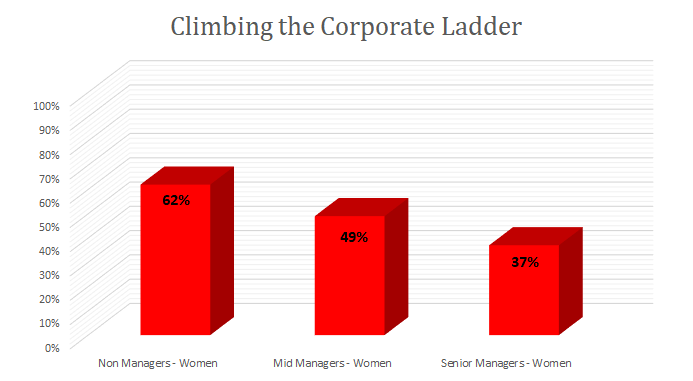 Furthermore, almost half the Best Workplaces™ for Women are in non-traditional sectors such as technology, dispelling the myth that it's a male-dominated industry. Due in part to some of the leading tech firms owning and tackling this challenge head-on, women are increasingly finding their place in an industry characterized by innovation, risk-taking and employee empowerment.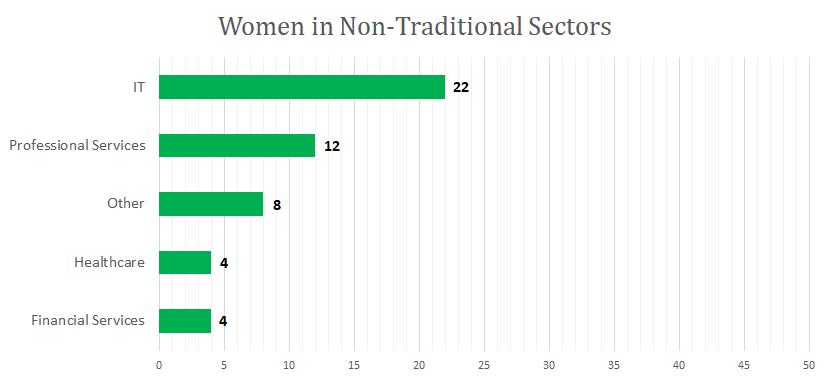 So how do these organizations attract and retain female talent?
FAMILY PERKS NOT PARAMOUNT
Many companies assume flexible schedules and generous family leave are key to attracting and retaining women in the workplace. While these perks are nice and valuable to both men and women, they're not what makes women most likely to stay.
Parents with young children represent only a portion of the female workforce. Our research found that female employees' perception of work-life balance actually had a limited effect on their intent to stay with their companies for the long haul.
Women candidates want to work for companies that maximize human potential, more than parental benefits or work-life balance. Benefits aimed at parents often become the go-to solution for making the workplace more attractive for female job prospects. In our analysis, though, women told a different story.
WOMEN WANT TO MAKE A DIFFERENCE
A recent study conducted by Great Place to Work found that women's careers benefit when their leaders seek out ways to make work more meaningful for all employees, irrespective of gender.
We know from our research into the Best Workplaces™ for Women that female colleagues place a high value on decision-making input. They also look for organizations that ensure employees feel like full members of the team who make an impact on its goals – traits that appeal to talented job candidates of any gender or background.
When women

feel they make a difference at their companies

, they're 27x more likely to say they have a great place to work and 6x more likely to want to stay with their companies for a long time.
When women say they're

treated as full members of the team

, regardless of position, they are 3x more likely to give extra to get the job done.
When women

agree promotions are fair

, they're 4x more likely to look forward to coming to work.
If women experience workplace traits that

encourage innovation

, they are 4x more likely to plan a long-term future at the company.
GREAT FOR WOMEN, GREAT FOR OTHERS
"You can tell a lot about a company by how women feel about working there," said Great Place to Work® President Chinwe Onyeagoro. "When female employees say the environment is fair and fulfilling, that's a strong indicator that the business maintains an even playing field for other employees, too."
"It turns out that exceptional work cultures for women also produce outstanding workplaces for all employees. Companies that lead in this way—by emphasizing the daily engagement and long-term buy-in of women—will see better performance from their teams and a stronger slate of leaders to helm their organizations in the future."
THINK YOUR ORGANIZATION IS A GREAT WORKPLACE?
Register today to become Great Place to Work-Certified™. Get recognized for the outstanding culture you've built or let us help you create a more productive work environment.
ABOUT OUR LISTS
Great Place to Work® publishes a series of Best Workplaces™ lists based on feedback from more than 300,000 employees at Great Place to Work–Certified™ organizations across all industries in Canada. Employees complete an anonymous Trust Index© survey, answering questions about how frequently they experience behaviors that create a great workplace, including, the transparency of communication, degree of collaboration, quality of benefits programs, opportunity for professional development, and support for work-life balance. If 7/10 employees respond positively to the survey, the organization becomes Great Place to Work-Certified™ for one year. Results from the survey are highly reliable, having a 95% confidence level with +/- 5% margin of error.
ABOUT GREAT PLACE TO WORK®
GPTW (www.greatplacetowork.ca) is the global authority on high-trust, high-performance workplace cultures. Through proprietary assessment tools, advisory services, and certification programs, GPTW recognizes the world's Best Workplaces in a series of national lists including those published by Fortune magazine (USA) and The Globe & Mail (Canada). Great Place to Work® provides the benchmarks, framework, and expertise needed to create, sustain, and recognize outstanding workplace cultures.
Follow GPTW online at www.greatplacetowork.ca and on Twitter at @GPTW_Canada
---