Great Place to Work® is pleased to announce the 2017 list of Canada's Best Workplaces in Manufacturing. To be eligible for this list, organizations must be Great Place to Work- Certified™ in the past year, have manufacturing facilities in Canada and a minimum 90% positive response to the statement "This is a physically safe place to work". We determined the BEST based the overall Trust Index score of eligible organizations.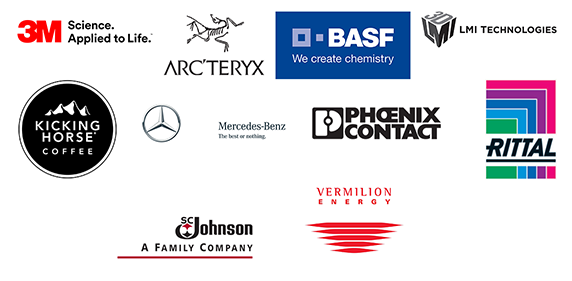 This year's Best Workplaces in Manufacturing highlight the best this industry has to offer. By employing skilled workers and high tech automation processes, these organizations compete on a global scale with quality products of which their employees can feel proud.
INNOVATIVE
Contrary to what many may think, today's best manufacturing organizations are hotbeds for the latest technology, which makes them a great career choice for skilled technical people. Nine of the 10 organizations named on this year's list have introduced new products or significantly improved processes in the past 3 years, resulting in an average growth rate of 12%.
One of this year's winners, LMI Technologies based in Vancouver BC, designs and builds 3D smart sensors that perform 3D scanning for measurement and quality control within the factory automation industry. "We do everything from chip to ship right here in Vancouver!" says Cathy Lim, Human Resources Manager. LMI is a highly technical place to work and everyone - from engineering to production staff - has a technical background. "Typically we prefer candidates with a diploma in electronics, but we're also very proud of recognizing experience in other countries by hiring new immigrants. When you give people that chance, they are lifelong employees".
GLOBAL
Every organization named on this year's Best Workplaces in Manufacturing list competes in the global marketplace and is committed to maintaining strict quality standards and a consistent brand experience for customers world-wide.
For example, Rittal Systems, which employs over 11,000 people in 80 countries, is the only global provider of electrical enclosure solutions in the world. Rittal is a family owned and run company and has extremely high moral and ethical values. Their company principals practiced globally are displayed in every office of every location and are focused on enabling, developing and training employees to be able to provide customers the best possible experience with best in class products.
…and PROUD!
At the Best Workplaces for Manufacturing, employees are not just making widgets; they report a deep sense of connection to their finished product and proud of their role in creating it. According to results of the most recent Trust Index survey, 26% of employees surveyed cited "identification with company's mission/products or services" as their primary motivation for working there; 83% said they feel a sense of pride when they look at what they accomplish and 91% said they're proud to tell others where they work.
According to Terri Howard, Director Human Resources, BASF Canada "At BASF Canada, our commitment to being a good corporate citizen is a source of great pride for employees. We live our corporate purpose - creating chemistry for a sustainable future - by sourcing and producing responsibly. Our employees are fundamental to achieving the goals set out in our strategy. Through our global safety concepts, we serve to protect BASF employees, contractors and our neighbours to ensure we meet the future and current needs of society in a responsible manner."
CANADIAN MANUFACTURING ON THE HORIZON
New research conducted by Great Place to Work (GPTW) and Canadian Manufacturers and Exporters (CME) explore some new challenges on the horizon for this this industry and how they must respond to remain competitive. Sign up here to receive this research first!
THINK YOUR ORGANIZATION IS A GREAT WORKPLACE?
Register today to become Great Place to Work-Certified™. Get recognized for the outstanding culture you've built or let us help you create a more productive work environment.
ABOUT OUR LISTS
Great Place to Work publishes a series of Best Workplaces lists based on feedback from more than 300,000 employees at Great Place to Work–Certified™ organizations across all industries in Canada. Employees complete an anonymous Trust Index© survey, answering questions about how frequently they experience behaviors that create a great workplace, including, the transparency of communication, degree of collaboration, quality of benefits programs, opportunity for professional development, and support for work-life balance. If 7/10 employees respond positively to the survey, the organization becomes Great Place to Work-Certified™ for one year. Results from the survey are highly reliable, having a 95% confidence level with +/- 5% margin of error.
ABOUT GREAT PLACE TO WORK
GPTW (www.greatplacetowork.ca) is the global authority on high-trust, high-performance workplace cultures. Through proprietary assessment tools, advisory services, and certification programs, GPTW recognizes the world's Best Workplaces in a series of national lists including those published by Fortune magazine (USA) and The Globe & Mail (Canada). Great Place to Work® provides the benchmarks, framework, and expertise needed to create, sustain, and recognize outstanding workplace cultures.
Follow GPTW online at www.greatplacetowork.ca and on Twitter at @GPTW_Canada
---