Digital transformation, the change associated with the application of digital technology in all aspects of human society, is blurring the lines between technology companies and other players.
Some experts are now musing that the 'tech sector' in and of itself, no longer exists. We are living in a world where all industries must embrace digital transformation. This is not just about doing what we've always done more efficiently, but fully embracing and using technology to unlock new ideas, new markets and new ways of thinking. In short, we are all becoming tech firms, and companies that are slow to accept this new reality will find themselves in the crossfire of disruptive start-ups or shareholder activists who will force the issue.
A recent study by Paris-based Capgemini Group found that outdated company cultures are the number one barrier to digital transformation. And what's more, this situation is not improving. In 2011, 55% of respondents said culture was the #1 barrier to digital transformation and in 2017 this number rose to 62%.
SO EITHER WORKPLACE CULTURES ARE GETTING LESS TECH SAVVY OR PEOPLE ARE NOW REALIZING THAT DIGITAL TRANSFORMATION IS IN FACT MORE ABOUT WORKPLACE CULTURE THAN IT IS ABOUT TECHNOLOGY.
How does an organization create a culture that supports (rather than creates barriers to) digital transformation?
Great Place to Work© research shows that high-trust behaviors, such as open communication, safe risk-taking and a perception of fairness, bring a significant competitive advantage in terms of profitability, innovation and customer retention. And it seems that even among the 100 Best Workplaces in Canada, ranked for their high levels of workplace trust, the tech sector has been outperforming all other industries for some time. So what is it about tech culture that drives bottom line results?
OPEN COMMUNICATION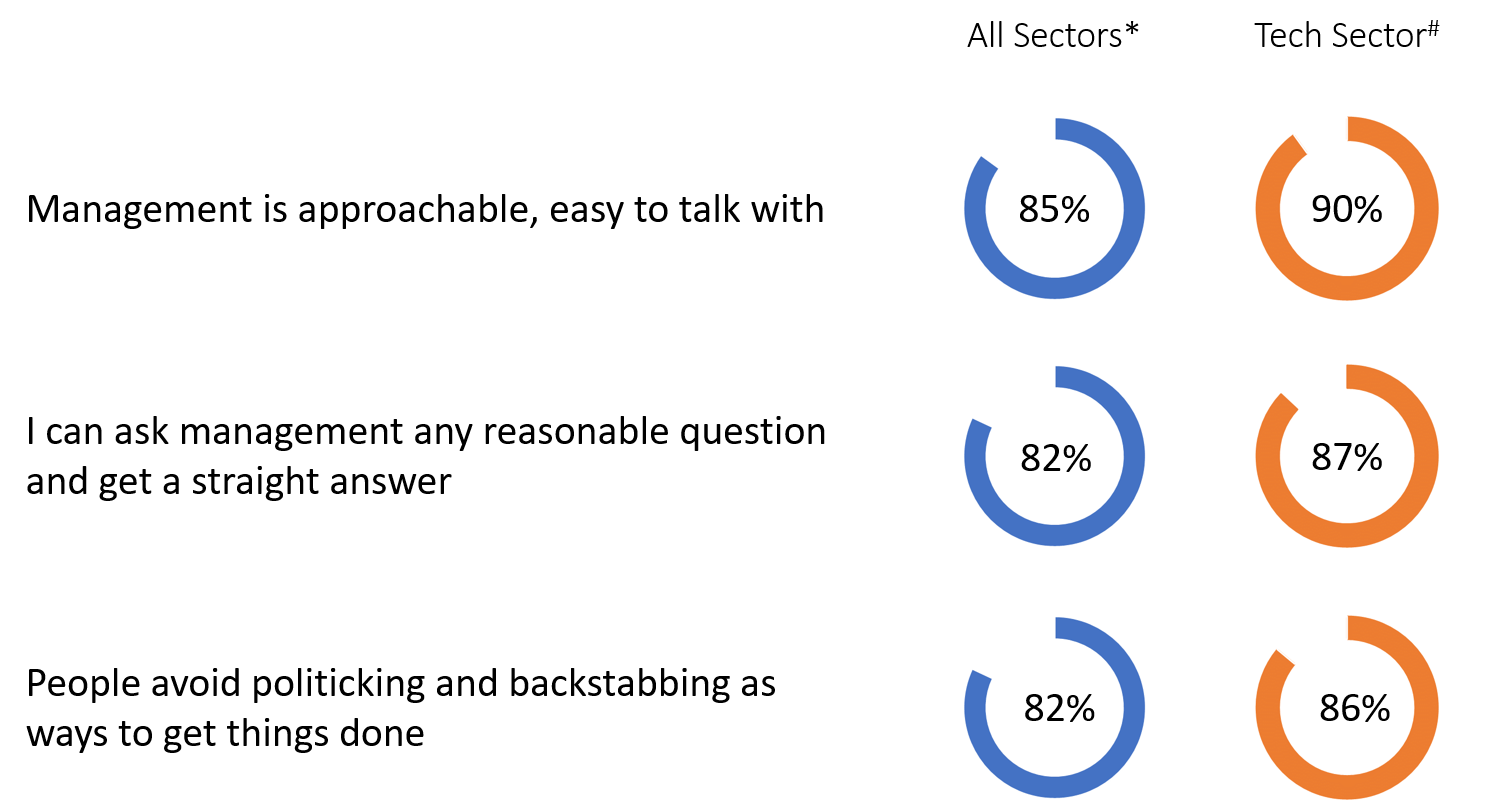 Managers at tech companies are typically more approachable and open than their counterparts in other industries. Managers give information freely and employees are expected to think for themselves and ask questions. This fosters a workplace culture where people have the information they need to get their work done without politics or second guessing.
AUTONOMY AND SUPPORT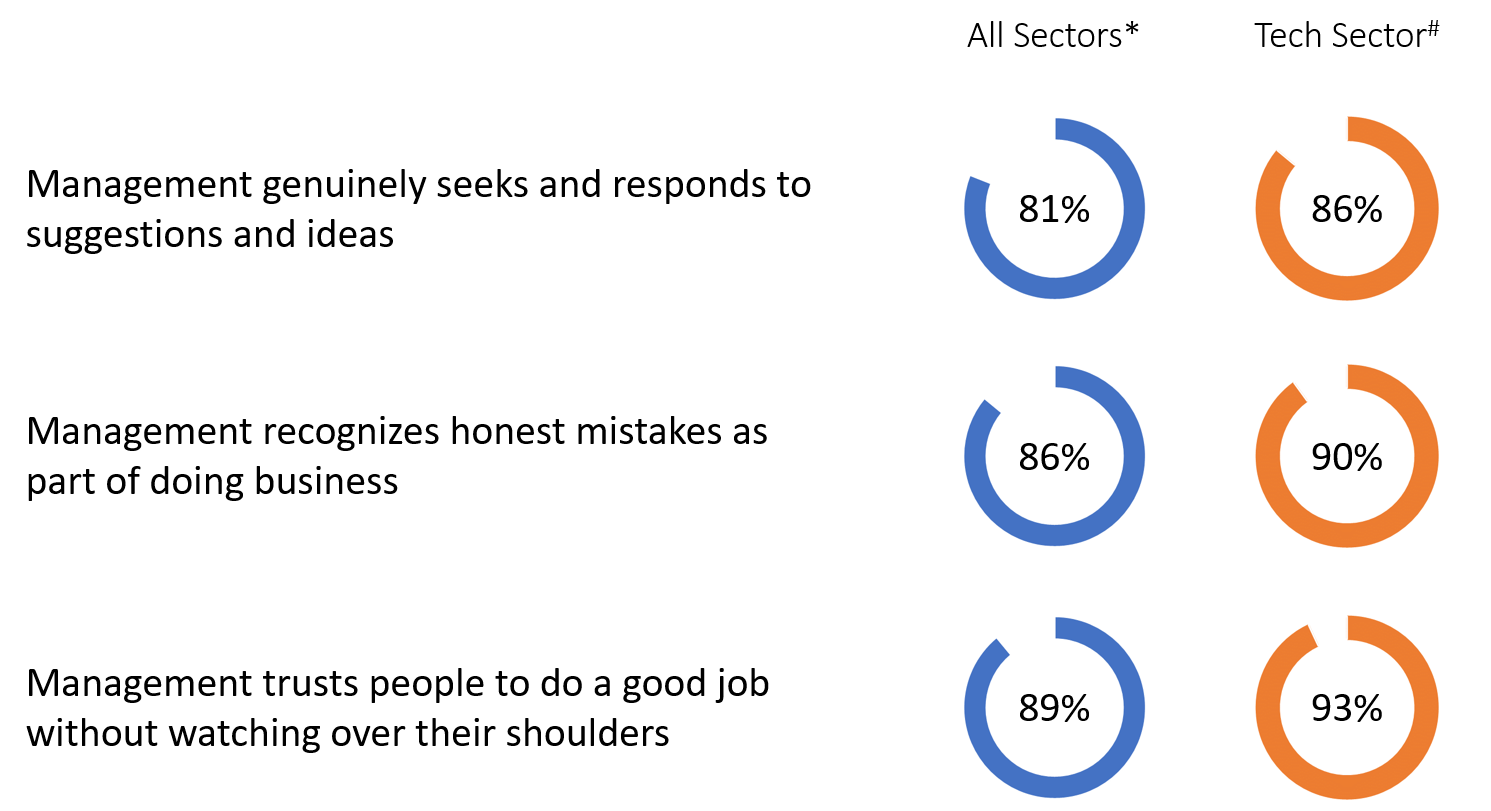 Tech companies are more likely to actively seek employee input, give them leeway to do their jobs without micromanaging, encourage safe risk-taking and support them when things don't work out exactly as planned. This fosters a workplace culture that can innovate and change in response to customer demands and the changing landscape.
FAIRNESS AND INCLUSION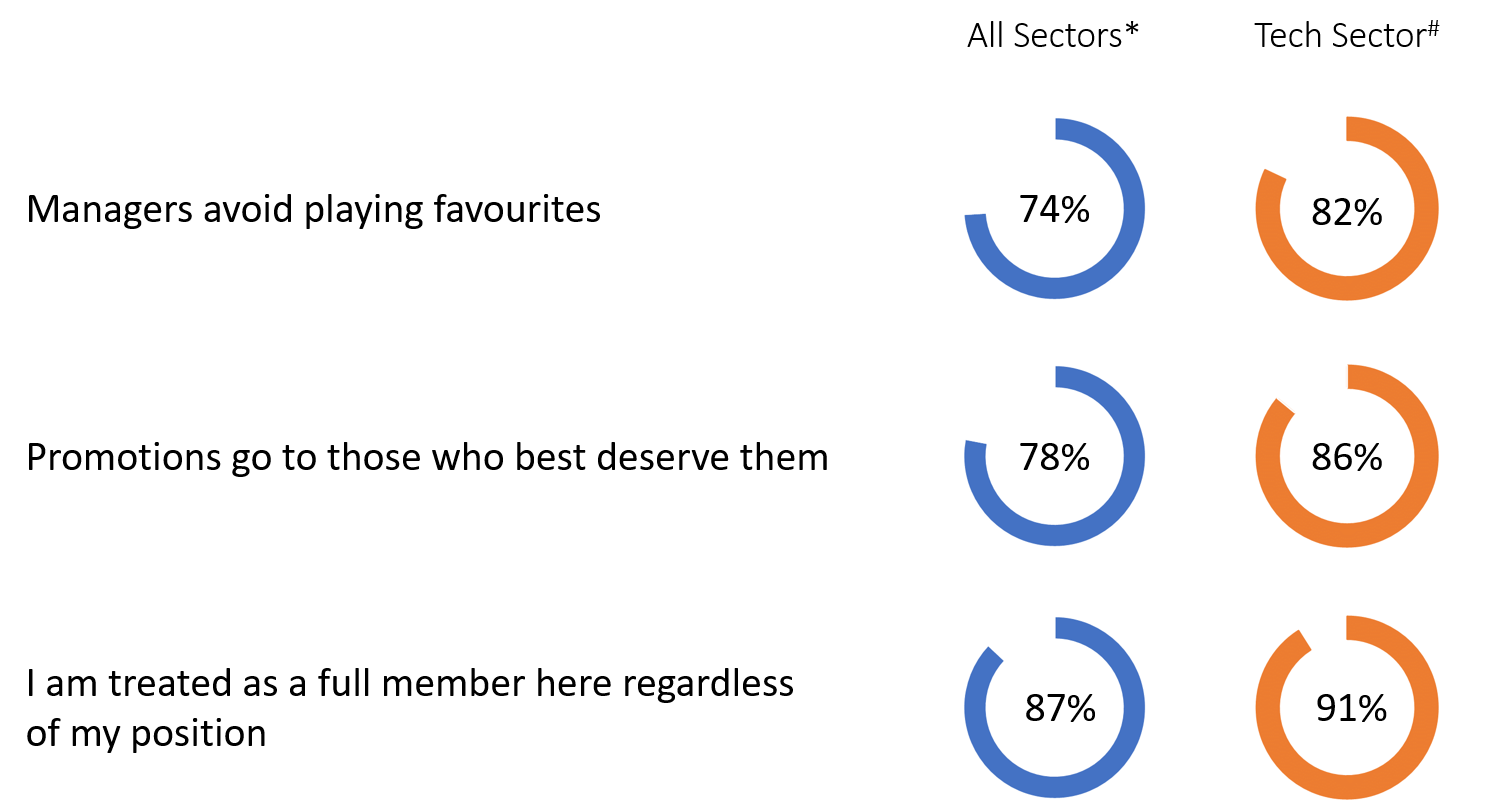 Employees at tech companies report significantly less favoritism and feel promotions are assigned fairly compared to the Best Workplaces in other industries. This fosters an inclusive workplace where all employees are recognized for their efforts, no matter who they are, where they come from or what they do in the organization. This is what we refer to as a 'Great Place To Work For All' and our research shows it is a key differentiator between regular workplaces and great ones.
STOP WASTING HUMAN POTENTIAL
Our financial system has evolved from farming to factory work to a knowledge based economy. We are now at a critical juncture, where a culture of innovation is vital to sustainable success and where everyone's contributions count. We are all working in tech now, in some way or another, and must embrace more of a tech mindset to stay in the game.
At the same time, societal and technological changes are creating new opportunities and challenges for organizations in the competition for talent. A reputation for welcoming people from all backgrounds and helping them develop their skills is increasingly crucial to attracting and retaining the best team possible.
In this new business frontier, businesses will reach their full potential only when they realize all their human potential. Leading companies, including Canada's Best Workplaces, are working to build diverse, consistently great workplaces to maximize people's contributions and stop wasting human potential. They realize that 'Great Places to Work For All' are better for people, better for business and better for the world.
WANT TO LEARN MORE ABOUT THE TECH EDGE?
Click here to read our list of Best Workplaces in Technology: Empowerment Drives Performance.
---