Between maternity and parental leave, Canadian women are eligible for up to 50 weeks of paid time off. And while this is an enviable benefit it's not without some drawbacks when it comes to women's careers. Women often report that the transition back to work is difficult and many feel disconnected and disengaged upon their return. Rather than risk losing these talented and experienced women, proactive organizations are using this leave time to maintain and even strengthen the employment relationship and ensure a smooth and supportive transition back to work.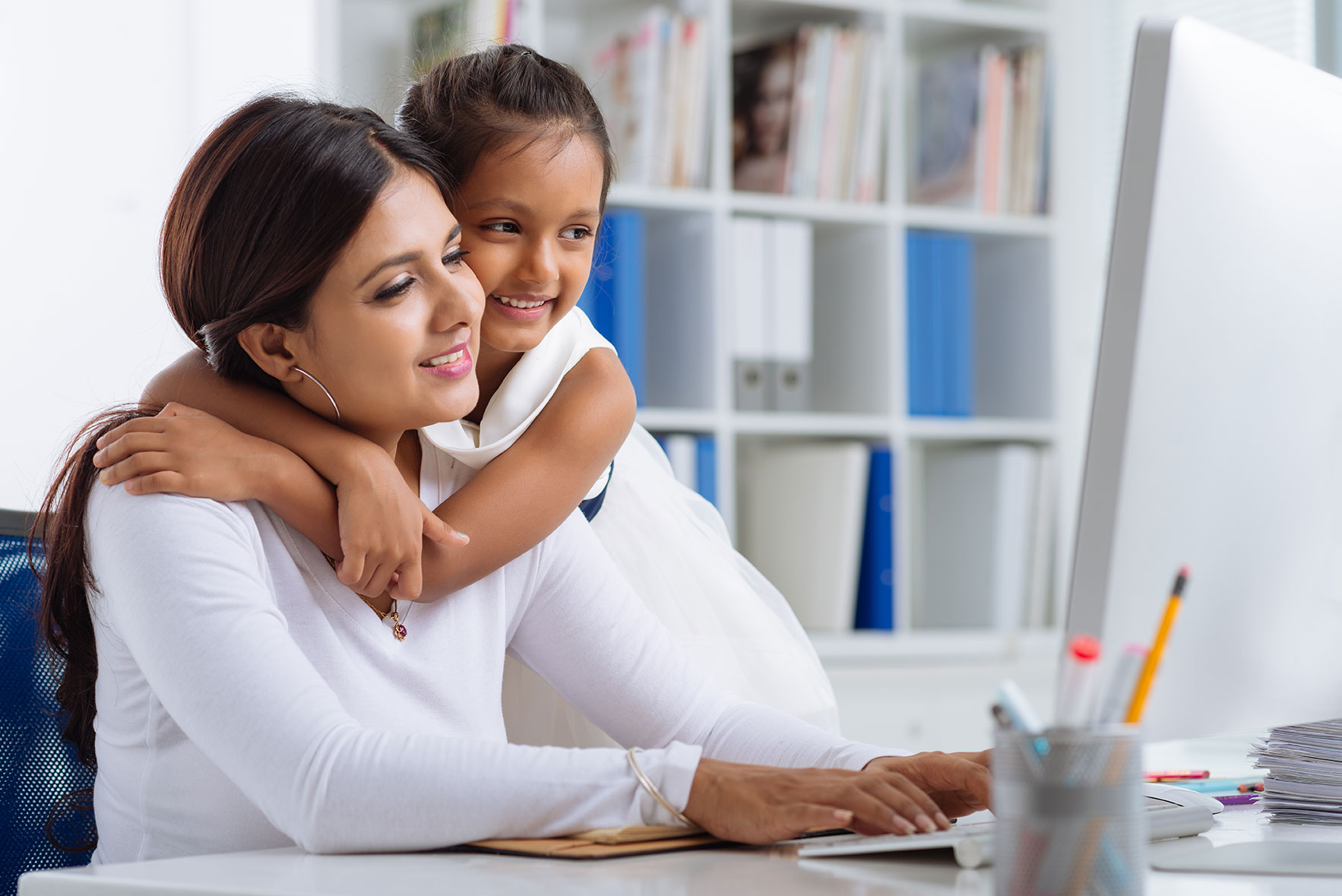 The organizational intelligence, skills and perspective these women bring to the workforce are significant and provide a strong business case for ensuring mothers feel supported and cared for before, during and after their maternity leave.
This transition is vitally important since working mothers represent a significant portion of Canada's workforce with 73% of mothers working either full time or part time. The organizational intelligence, skills and perspective these women bring to the workforce are significant and provide a strong business case for ensuring mothers feel supported and cared for before, during and after their maternity leave. Relying on Canada's well-legislated maternity and parental leave benefits however, is just not enough in today's competitive marketplace. You need to address each of the three phases of maternity leave (before, during and after) with culturally inclusive and supportive programs that will help you not only retain, but also attract working mothers to your organization.
BEFORE MATERNITY LEAVE
The key here is to create a culture of support. We talk a lot about creating a workplace culture that is supportive and inclusive and this is truly the cornerstone of a great workplace. Too often, companies (especially smaller ones) view pregnancy as a resource burden, and they miss out on the opportunity to celebrate this milestone with their employees. What better way to reinforce that you care about your people, than to treat a woman's pregnancy as a cause for celebration and let her know that you are committed to meeting her needs during this exciting, and sometimes stressful, time?
Hold a company sponsored baby shower. Include clients – this shows that you are fully supportive of the upcoming leave and are committed to serving both your employee and client needs.
Don't assume... She's not going to want to travel; we'll get Mark to go. She may be too tired so let's put Rachel on the committee. She won't want to get involved with a new project so close to her due date. Talk to HER and let her decide what she can and can't take on during the pregnancy. Making assumptions like these reinforces her fears of being phased-out, creates distrust, and undermines her value to the organization.
Be accommodating and thoughtful. Pregnancy involves many physical changes and unpleasant symptoms so be mindful of these. Talk about accommodations to work schedule or space and schedule around appointments. As an example, at Mercedes-Benz Financial Services Canada, when an expectant mother reaches seven months pregnancy she is provided with a reserved underground parking spot close to the elevator.
Provide resources that will help expectant mothers prepare for the birth and help answer their questions. At Capital One Bank they offer a Maternity Management Program that provides educational materials and services to help expectant mothers give their babies a healthy start. Trained staff members provide educational resources regarding newborn and baby care as well as postpartum depression screening and services.
DURING MATERNITY LEAVE
Financial stress is one of largest concerns for mothers going on leave. In Canada we are fortunate that new mothers are eligible for 15 weeks of pregnancy leave, plus an additional 35 weeks of parental leave, which can be taken by either parent. While on leave, employees are entitled to continuation of employer-paid medical benefits, reinstatement at the same job level, and may be also be eligible for maternity/parental compensation through EI Canada for the duration of the leave. At the Best Workplaces in Canada, 47% offer maternity top up and 22% offer parental top up. Top-ups range from 100% of salary for 2 weeks to 75% of salary for 26 weeks or longer. Some even offer top-up to new moms not planning on returning to work full-time after childbirth.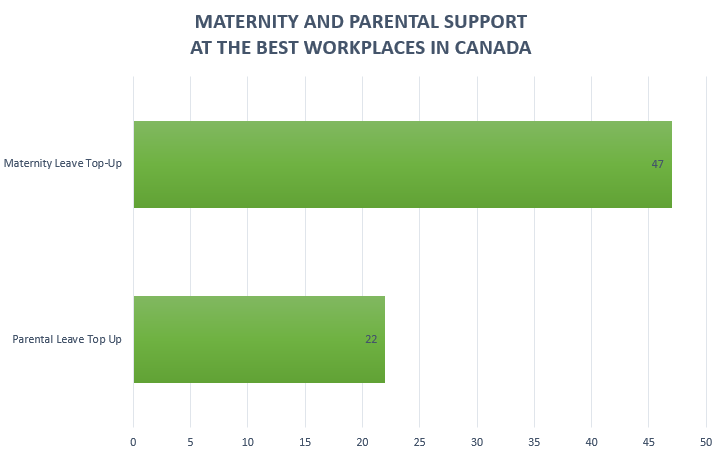 For parents who adopt, the process can be very expensive and some of the Best Workplaces offer up to $5000 or more to help offset the cost of adopting a child. By making it more affordable to take maternity and/or parental leave, employers are sending a clear message that they value their female employees and want to support and retain them during their childbearing years.
Other ways to support your people during maternity leave include:
Focus on flexibility. Inclusive and flexible workplaces are the new norm. Tomorrow's workplace will be expected to welcome and include diverse perspectives and styles and accommodate transitions into and out of the workforce.
Keep In Touch (KIT) Days. Provide ample opportunity for moms, and dads, on leave to stay in touch with what is happening at the office. You can schedule a couple of conference calls during meetings or other events or schedule time for new moms to stop by and have lunch. Remember to let mom/dad take the lead with this and tell you what events and times they prefer. At Hill + Knowlton they host "Bring you Baby to Work" days for everyone to meet the new addition as well as reconnect.
Childcare referral. In many places childcare is difficult to secure so helping employees make arrangements in advance is a great way to provide support. In fact, 54% of the Best Workplaces in Canada offer childcare referral and information services. Mercedes-Benz Financial Services Canada provides employees with a Kids & Company membership. This membership guarantees a spot for their child in one of 27 childcare locations across.
Be creative and think about what you'd want most as a new parent. 360insights has done a particularly good job of this with their Leave Loop program. They realize that taking a leave is challenging for team members and they want to make sure employees feel connected despite being away from work. Employees are supported in a number of ways including Meals for New Parents (team members get a $50 credit to order food from anywhere they want), Miss You/Wish You Were Here Signs (included in team pictures and sent to the employee regularly) and a Mid-Way Encouragement Care-Package (delicious instant coffee and a custom mug, as well as a two hour cleaning session provided upon their return to work).
AFTER MATERNITY LEAVE
Many highly talented women will leave the workforce because they feel unsupported or unappreciated.
The actual transition back to work is a critical time for the employment relationship. Making your employee feel fully welcome and appreciated and valued during this time improves retention rates and adds value to your company. Many highly talented women will leave the workforce because they feel unsupported or unappreciated. Too often they come back to a job that is unrecognizable in terms of role and responsibility. You can prevent this through open and honest communication and mutual flexibility.
Flexibility and approachability will go a long way toward smoothing the transition back to work. Train all people leaders on how to manage employees coming back from maternity leave. Make sure they maintain clear communication and let employees know that they can come to their manager with requests and concerns. This ensures your organization delivers a consistently positive experience that supports your inclusive culture. Providing leaders with lots of flexibility options is also important. Reinforce flexible work programs and policies and establish protocols for flex options like:
Remote work
Compressed work weeks
Reduced hours
Job sharing
Graduated return to work programs
Here are some more ideas for inspiration:
Support childcare. If onsite childcare is not possible, consider subsidized emergency back-up for when regular arrangements break down. At the Best Workplaces in Canada, just 3% are able to offer onsite services but 27% offer subsidized emergency back up care.
Provide a "Mother's Room". This allows nursing moms to pump milk or just take some time to recharge on particularly exhausting days. If work involves travel, provide travel kits for milk storage.
Establish support networks for parents. Edelman Canada's Maternity Buddy program helps future and new parents successfully transition back to work after the birth or adoption of a child. Areas where buddies provide support include childcare information, tips for transitioning back to work, dealing with conflicting feelings between work and family, time saving and organizational tips, and balancing work-related travel.
Provide a concierge service that will run errands for people. This is a huge time saver for people and will be appreciated by the whole organization.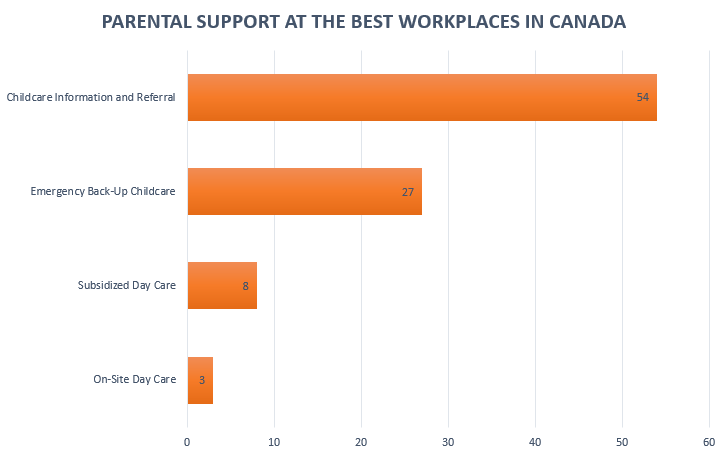 Getting the right supports in place before, during and after maternity leave will reduce the loss of talent from the workplace, reduce recruitment and staff turnover costs, build loyalty, and reinforce all the inclusive elements of your culture you have worked so hard to establish. Put the policies and programs in place and then train your leaders to reinforce them. You will be rewarded with a workforce full of people, working moms included, who recognize they are valued and who know they are supported in all phases of their life.
Further resources: ceric.ca
We welcome you to comment on this article! Please use this public space respectfully and in alignment with our User Conduct Guidelines.