Don't know what you should be doing to uplift employees' well-being? Learn from these ideas from Certified great workpalces.
Organizations are currently grappling with many issues. But one is arguably more top of mind than others. One that is keeping CEOs up at night. How to stop the revolving door of employee turnover.
The reasons for turnover vary from company to company, but there's one area of the employee experience that shouldn't be ignored or shoved down on the priority list: employee well-being.
The current situation is grim.
Four of out five employees worldwide are not flourishing at work, according to a survey of over 14,000 people from 37 countries by Great Place To Work® and Johns Hopkins Carey Business School.
The reasons behind these low results go beyond the impacts of the pandemic. Employees worldwide consistently experience serious gaps in purpose and connections, two core aspects of employee well-being.
A flourishing state of employee well-being is associated with meeting our potential, developing strong work relationships and doing things that we consider important and worthwhile.
And when companies promote employee well-being effectively, they can increase employee retention three-fold, as our research proves.
The good news is that employee well-being can be supported and developed. After researching the practices of Certified™ great workplaces and employee survey data, we know that six key practices are proving to help managers enhance employee well-being:


1.

Measure employee well-being regularly

Employees' needs are individualized and always evolving. This makes surveying, listening and measuring essential tools for understanding employees' current experiences and tailoring strategies to support them.


2. Send powerful, simple signals that well-being matters
A crucial first step in acknowledging the emotional burdens employees may be facing is to let employees know their company and leaders care and that their organizations support them. This can be as simple as leaders modeling the behavior themselves.


3. Connect employees with human experts
Well-being needs personalization, making coaches, experts and counselors critical resources to guide employees in developing strategies and skills for their own situations, strengths and values.
This is particularly true for mental health, an area where the Best Workplaces are rapidly expanding their support.


4. Activate local champions
Well-being is an experience shaped by the personal interactions and group dynamics that employees experience daily. Enabling employees at the team level to serve as role models and advocates can inspire others to also advocate for a climate of well-being.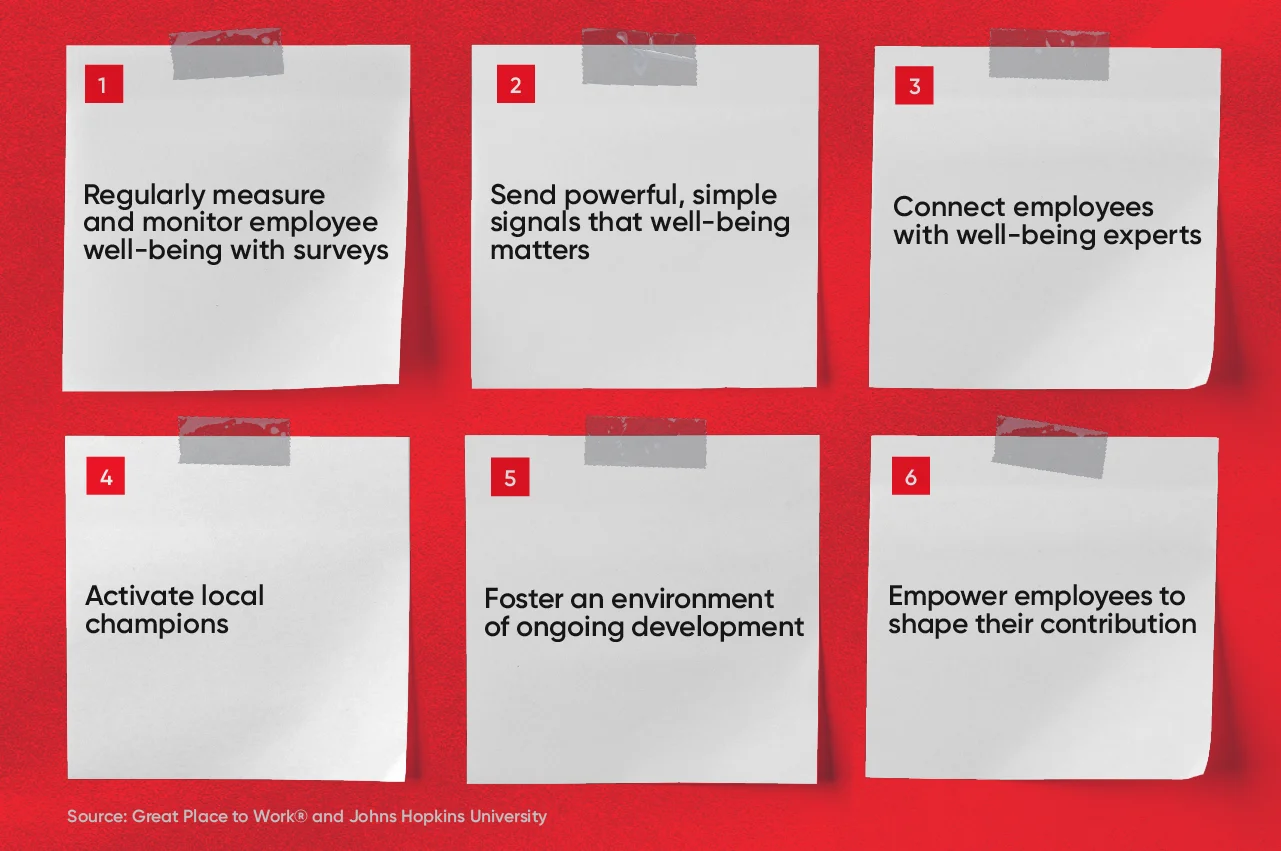 5. Foster an environment of ongoing development and learning
Improve employees' capacity to achieve better well-being with self-development courses, mentorship and open communication about professional goals and work-life harmony.


6. Empower people to shape their contribution
Allow employees some level of autonomy in their work while linking their role to the outcomes of the organization. This can help provide a sense of control and purpose – key elements in fostering a sense of well-being.
Many have attempted to repair poor employee well-being with band-aid fixes like meditation apps and smartwatches. But, like any problem in life, you must uncover the root cause – and fix it at that level – if you want a long-lasting solution.


Are your employees are experiencing well-being at work?
Signal to job seekers that your company takes well-being seriously with Great Place To Work Certification. Our research indicates that employees at these workplaces are flourishing compared to average Canadian workplaces.

Get in touch with Great Place To Work to survey your employees and benchmark your company culture. With our Trust Index™ survey you can measure employee well-being at your workplace and identify clear areas of opportunity.
---