Great Place to Work® is pleased to announce the 2017 list of Best Workplaces in Canada for Women. To be eligible for this list, organizations must be Great Place to Work Certified™ in the past year and have a minimum of 50 female employees. We determined the BEST based on levels of workplace trust experienced by their female workforce as well as their people programs that support women.
The Best Workplaces for Women are setting a high bar for workplace equality. Though there is still room for improvement, 93% of female employees working at these organizations agree people are treated fairly regardless of their gender, 79% agree that promotions go to those who best deserve them and 81% agree that everyone has the opportunity to get special recognition.
So how do they do it?
FAMILY FRIENDLY
Winning the #1 spot on the Best Workplaces for Women list for 3 years running, Vega has created a workplace culture that puts people first, with a focus on a balanced and heathy lifestyle. With nearly 70% female staff, full-time Vega employees receive 80% parental/maternity leave top up for twenty-six weeks to care for new children. Both men and woman are eligible for this top up. But as Shiah Bazeley, Vega's HR Director, points out, it's really the informal practices and flexible, family oriented work environment for both sexes that make Vega great for women. "At Vega, we understand that parenting isn't just one person's responsibility. Fathers are also encouraged to take advantage of Vega's flexible environment - and this is role-modelled at the most senior levels."
FLEXIBILITY
Though a flexible workplace should be important for both women and men, women are still shouldering the lion's share of responsibility at home, so work-life balance is a primary motivator in selecting an employer.
PRIMARY MOTIVATOR IN SELECTING AN EMPLOYER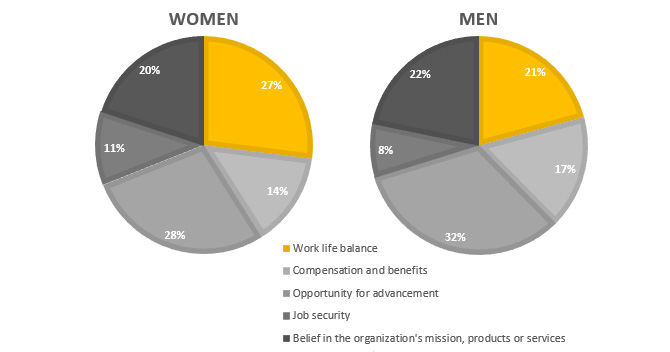 Global tax services firm Ryan, has recently launched MyRyan, a radical new workplace flexibility program which basically lets employees work anytime from anywhere as long as they achieve financial results and strong client service scores. Employees are expected to observe the "three C's" to accomplish this effectively— communication, collaboration, and consideration. Teams design and create their own schedules for making myRyan work.
At Eagle Professional Resources, there is a strong focus on Work/Life Fusion. Through their new WORKshift program, employees are encouraged to work at the time and location where they are most productive. For many, this means working from their home office one or two days per week during regular office hours; however, it is not limited to this scenario. Employees may also work from other locations during personal travel. Sometimes employees shift their working hours to attend appointments or avoid traffic. Each employee's WORKshift plan is unique to their needs, is developed in partnership with their Manager, and creates a win-win scenario without compromising the goals of the organization.
LEVEL THE PLAYING FIELD
Despite the fact that men and women are equally represented in the workforce, less than 30% of senior leadership positions are held by women. Though there are many reasons for this, one thing is clear: in order to create a workplace which empowers women to reach their full potential, we must address systemic bias by creating opportunities for collaboration, training and development specifically for women.
Flipp started its very own Lean-In Community to support women's career growth within the organization. This community (more than 20 strong) hosts monthly lunch and learns on topics such as: Bossy vs. Assertive, Finance for Non-Financial Managers and Glass Ceiling/ Glass Cliff. Refreshingly, this community welcomes male participants during meetings for different perspectives. The community is also involved in seeking external speakers for added inspiration for women at Flipp and to evolve the committee beyond lunch and learn meetups.
THE PATH FORWARD
Workplace equality for women is still not a reality in Canada. Despite more women graduating from university than men, women continue to earn less than men doing the same job, are under-represented in senior management positions and are still doing the lion's share of work in the home. All of this makes it extremely difficult for women to balance career with family and personal life.
The Best Workplaces for Women are on the right track. By creating flexible, family-friendly workplaces and creating specific programs to foster collaboration and development among female employees, these organizations are working to create a Great Place to Work – FOR ALL.
THINK YOUR ORGANIZATION IS A GREAT WORKPLACE?
Register today to become Great Place to Work-Certified™. Get recognized for the outstanding culture you've built or let us help you create a more productive work environment.
ABOUT OUR LISTS
Great Place to Work publishes a series of Best Workplaces lists based on feedback from more than 300,000 employees at Great Place to Work–Certified™ organizations across all industries in Canada. Employees complete an anonymous Trust Index© survey, answering questions about how frequently they experience behaviors that create a great workplace, including, the transparency of communication, degree of collaboration, quality of benefits programs, opportunity for professional development, and support for work-life balance. If 7/10 employees respond positively to the survey, the organization becomes Great Place to Work-Certified™ for one year. Results from the survey are highly reliable, having a 95% confidence level with +/- 5% margin of error.
---