Webinar Calendar
Checkout the upcoming dates of our Better™ -Webinar Series
Proof of Learning will be awarded upon completing each live webinar
Webinar
Session Description
Learning Outcomes
Date
Registration

Becoming an Employer of Choice: The Strategic Role of HR

In this session, we delve into the potential of employer branding as a valuable tool in your talent strategy. We discuss the advantages of creating a robust employee value proposition and employer brand, and how it can be a vital part of an effective talent strategy. We examine the Great Place to Work–Certification program in detail, explaining the assessment process, the required work, and how to engage other teams' support. We also demonstrate how to strategically use employee survey data to inform HR decisions, enhance performance, promote inclusion, and elevate your standing as an employer of choice by leveraging your company culture.

Understand the business benefits of building your internal and external employer brand.





Learn how to leverage this to support your talent strategy and build a reputation as an employer of choice.





Learn the steps involved in becoming Great Place to Work-Certified.





Learn how to attract media attention and amplify your message.





Learn how you can leverage Great Place to Work's valuable survey data and insights to

more strategic decisions, drive performance and increase inclusion.

Date: July 26, 2023
Time: 11:00 AM - 12:00 PM EST

Click here to register

The Power of Purpose: Fostering Purpose-Driven Cultures for Enhanced Performance

You'll be hard pressed to find a leader who says purpose doesn't matter. But you'll be equally hard pressed to find leaders who treat purpose as a business imperative — unless you're one of Canada's Best Workplaces, where purpose is prioritized.

Each year, Great Place to Work recognizes the Best Workplaces in Canada based on direct feedback from their employees on levels of trust within their organizations. This years' winners have found that the way to inspire, engage, and retain their people lies in purpose: providing employees with work that is more than "just a job."

In this session, you'll learn why purpose-driven cultures outperform their peers, and how you can take small steps to connect all employees with their purpose to drive stronger business outcomes.

Learn how helping employees find deeper meaning in their work drives better outcomes for people and for business including higher retention, improved employee well-being and stronger financial returns.


Learn some tips on how to connect your people with their purpose at work, regardless of what industry you're in.


Learn why organizations that don't connect employees to purpose will face increasingly difficult challenges in the months and years ahead.

Date: Aug 23, 2023
Time: 11:00 AM - 12:00 PM EST

Click here to register




Manifest Inclusion: Shaping the Future of Work FOR ALL

All people everywhere deserve to work in an organization where they trust their leaders, take pride in what they do, and enjoy their colleagues. More and more organizations realize that high-trust workplaces, where every employee can reach their potential, are good for business and good for society.

In this session, we'll deconstruct the concept of workplace inclusion and share our new research that shows how the most inclusive workplaces are able to cultivate the human potential of all their people---and outperform their competitors.

Learn about the difference between diversity, equity, inclusion and belonging.





Learn how workplace inclusion can drive business results by creating an environment where everyone can bring their best to work.





Learn how to take a data-based approach to workplace inclusion by actively seeking out pockets of employees who are having a 'less great' experience than their peers, and closing these gaps.

Date: Sep 27, 2023
Time: 11:00 AM - 12:00 PM EST

Click here to register

Thrive & Flourish: The Link Between Employee Well-being, Inclusion, and Workplace Success

It is widely accepted among health practitioners that our biological health can be influenced psychological and social factors and vice- versa. With that in mind, choosing a job can be one of the most important health decisions you will make in your life! Your job has the potential to have a profound positive – or negative – impact on your health.

Based on our recent research in partnership with John Hopkins University, we'll present a model for thinking about employee well-being which goes way beyond employee's physical health and the job they do. By creating a climate of mental and emotional support, personal support, financial health and meaningful connections, business leaders can provide a foundation for positive well-being that allows employees to flourish in and outside of work.

Learn about the inter-connectedness between physical health and organizational health.





Learn about the 5 dimensions of employee well-being, and how they create an environment where employees can flourish in and outside of work.




Learn about the business benefits of supporting employee well-being.



Learn how you can monitor employee well-being and involve employees in creating solutions and supports that work for your environment.

Date: Oct 25, 2023
Time: 11:00 AM - 12:00 PM EST

Click here to register

Trust and Safety

TBA

Culture on the Frontlines

TBA
*Webinar schedule is subject to change.
Proof of Learning
Upon successful completion of the webinar, all attendees are eligible to receive a Proof of Learning. This certificate is a testament to your dedication to professional development, and reflects your commitment to professional growth and understanding of the latest trends and challenges in Human Resources.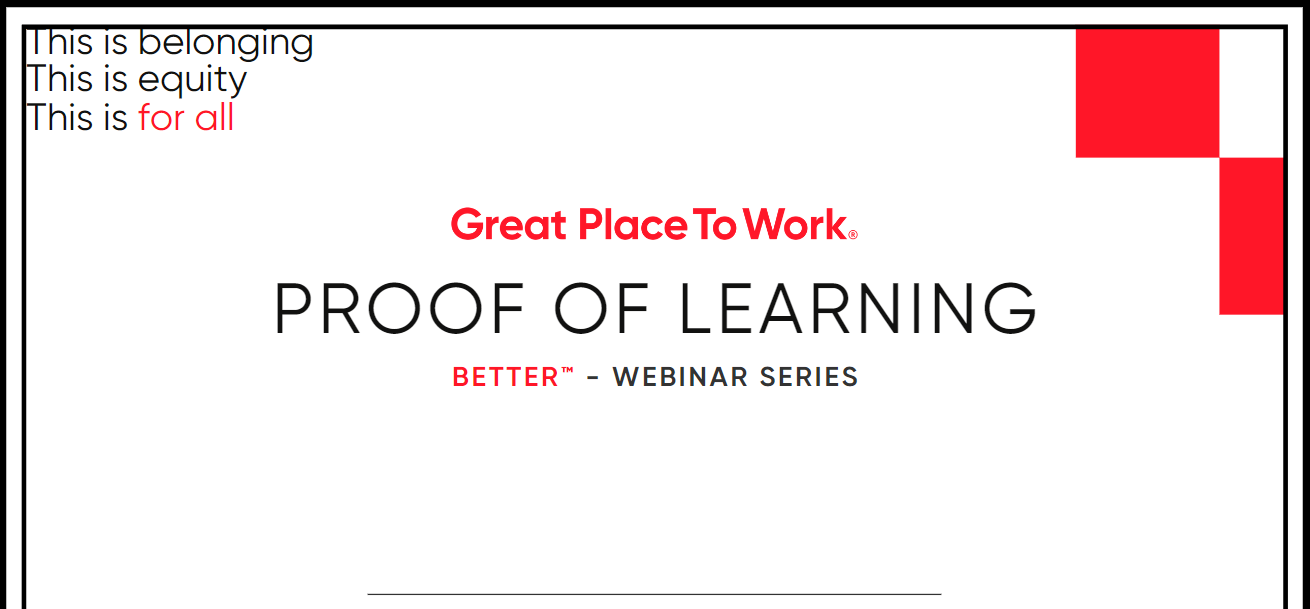 Procedure to Receive the Certificate:
Ensure that you have attended the complete webinar. Full attendance is crucial to obtaining your certificate.

Complete the post-webinar survey. Your feedback is essential for us to improve future webinars and tailor them to your needs.

After verification of your attendance and the survey completion, you will receive an email with a digital Certificate of Completion. This process can take up to 2-3 weeks.
Continuing Professional Development (CPD)
Our Better™ webinars may qualify for your association's requirements to maintain your accreditation. Here's how you can claim your valuable CPD hours:
Attend the Full Webinar: Participate in the live webinar sessions of our Better™ - Webinar Series.


Proof of Learning Certificate: Upon successful completion, you will receive a Proof of Learning Certificate for the webinar attended. This certificate will serve as evidence of your participation and can be included in your professional portfolio.


Complete the CPD Form: Fill out your CPD form, providing essential details such as the webinar title, date, duration, and the knowledge areas covered. Do this as soon after the webinar as possible so you don't have to go back through your calendar in a few years to catch up!


Self-Assessment: Reflect on the webinar content and consider how it relates to your professional development goals and responsibilities.
Please note that it is your responsibility to check with your professional association or governing body to ensure that our webinars meet their specific CPD requirements.