To truly set up new hires for success at your company, it's crucial to deliver a tailored employee onboarding program that embodies your company's culture and prepares them for the road ahead.
Successful onboarding programs go beyond basic welcome emails to deliver a great employee experience, even before new hires have their first day on the job. This includes everything from decorating their desk with thoughtful, personalized items to giving them a clear path to success.
And while many companies can stumble in making the investment in employee onboarding, there's one company that leaves the competition in the dust. And that company is Goose Digital.
As one of Ontario's professional services powerhouses, Goose Digital helps Canadian organizations improve the way they work. By joining forces with their clients, they act as an extension of their team to provide digital marketing, automation and consulting services, enabling them to take their marketing strategies to new heights.
At Goose Digital, they know that building a productive, scalable, and engaged workforce starts with providing new employees with a great onboarding process.
If culture can be described as 'how we do things around here' then onboarding is the opportunity for the organization to answer that question.
Through onboarding, an organization can clearly demonstrate its mission, values, and unique characteristics — at a moment when employees are at their most receptive. Onboarding also shows new hires how they can interact with and influence the culture through their actions and attitudes at work.
Taking Flight
Creating a memorable onboarding experience that makes employees fall in love with the company is something that the team at Goose Digital have mastered beautifully.
It's true that very few people walk into a new job knowing exactly what to do and how to do it. That's where Goose Digital's Flight Plan comes in. Crafted over several years, this employee manual covers everything and anything from how to use technology effectively, to how to build your confidence for presenting to clients, to how to immerse yourself into the culture and everything in between! While it might sound like a blueprint for how to be successful in this organization, it's really the employees who decide how best to do their jobs.
"Goose Digital was founded on the principles of delivering great work with people you enjoy working with. Our mission has always been to empower our employees with responsibility, autonomy, and leadership to support individual development and accomplishment. Each member of Goose Digital – past and present – has played a role in shaping our culture to date and what it will be in the future. I'm very proud to see Goose Digital recognized as a Great Place to Work and honoured to receive a Trust Score of 96% from our talented team" – Michael Turcsanyi, CEO and Founder of Goose Digital.
Finding the Leader Within
It's not just the impeccable onboarding experience that makes Goose Digital stand out from the crowd. This is a company that knows if you want to retain top talent and keep them motivated, you have to give them a clear career path to follow. They make it known that the company prioritizes, values and actively promotes career development by carving out promotion paths with employees early on in their tenures.
That's why they invest so much in the training and development of their employees. Employees here are challenged and motivated to do their best work. They're encouraged to embrace opportunities that enable them to reach their full potential and they're supported by leaders who recognize and reward the contributions they make to the company's overall goals and the goals of the clients they work with.
Leader of the Flock
Employees who show exemplary performance are in the running for the highly coveted 'Leader of the Flock' pin, awarded by the CEO a couple of times a year. When Geese fly in a V-formation, the lead position is the hardest and most physically exhausting. But this Goose is crucial to ensuring the flock moves in the right direction and gets to their destination. After flying for some time, another Goose will rise up and take the lead position for the benefit of the flock.
Goose Digital's Leader of the Flock award recognizes individuals who do just that. They're the people who get out in front.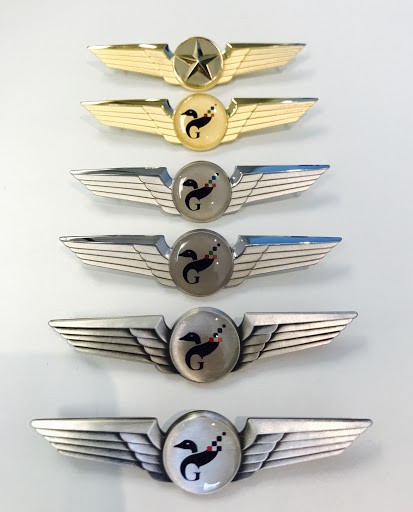 Rising Above
As digital marketing experts, Goose Digital knows that gleaning insights and learning the lay of the land is crucial to every marketer's career development. And it can be especially hard to come by in the early stages of your career. That's why they've made the commitment to empower every employee with the first-class competencies needed to be successful in this space.
It's not hard to see that employees here are at the heart of everything the company does. And it comes as no surprise that Goose Digital was named the #9 Best Workplace in Canada and recognized on the Best Workplaces for Start-ups and Best Workplaces for Today's Youth lists for their exceptional company culture, enviable employee experience and outstanding employee development.
To learn more about Goose Digital and their unique company culture please check out their website at goosedigital.com.
The Bottom Line
A strong employee experience is one of the most powerful investments your organization can make. It'll lead to noticeable benefits such as a wider talent pool, improved retention, and increased revenue. But it doesn't stop there. A well-designed employee experience also ensures that your employees – who are your company's greatest assets – are set up for success before, during, and after their tenure at your company.
Want to learn more about how Great Place to Work can help enhance your employee experience? Let's chat.
About Great Place to Work®
Great Place to Work® is the Global Authority on Workplace Culture. We make it easy to survey your employees, uncover actionable insights and get recognized for your great company culture. Learn more about Great Place to Work Certification.
---