Great Place to Work® is pleased to announce the 2019 list of Best Workplaces in British Columbia. To be eligible for this list, organizations must be Great Place to Work Certified™ in the past year, be headquartered in British Columbia, and have at least 15 employees working in the province. We determined the BEST based the overall Trust Index score from their BC-based employees.
The BC labour market, which is comprised mostly of small and mid-sized businesses, continues to experience the lowest unemployment rate in Canada. This, coupled with rapid, technology-fuelled growth in most industries, means BC employers must clear a higher bar to win the war for talent.
Habanero Consulting Group is a BC-based technology consulting firm that helps organizations realize their potential by bringing their purpose and values to life, creating exceptional employee experiences, and implementing the technology required to transform. Habanero pairs a human-centered design perspective with a deep understanding of enterprise technology to create exceptional experiences for everyone.
Habanero is in the 'culture business' and they practice what they preach: the company has been recognized by Great Place to Work as one of the Best Workplaces in Canada for the past 9 years, including 4 years in the #1 spot.
We asked their president, Steven Fitzgerald, to offer his insights into what makes the BC market unique, and how BC's Best Workplaces can leverage culture to attract and retain the best talent in a very tight labour market.
What differentiates the BC market, in particular Vancouver's thriving tech market, from the rest of Canada?
"Vancouver is a particularly collegial market" says Fitzgerald. "Organizations are more likely to sit down and share shop-talk than be fiercely competitive and keep secrets." An example of this can be seen among the Vancouver user experience community. In 2003, Habanero co-created VanUE, a thriving group of practitioners who meet monthly to share experiences and knowledge. In 2015, this group introduced the VanUX awards to showcase and recognize incredible experiences. The awards not only help raise the level of practice in the industry, but also open up companies so the whole market can understand and appreciate what it would be like to work with them. In this way, the collegiality of the Vancouver market makes it easier for people to find the right fit in an employer.
What is the biggest challenge facing BC's tech sector employers?
According to Fitzgerald, industry in general has to become more agile in the face of growing competition and disruption. BC also has more small and mid-sized organizations who, because of their size, have to be more agile and experimental to win. This makes for a fluid market. "The challenge is that the ways we solved problems in the past no longer work in this new environment. Today, change needs to be more human-centred. Digital transformation isn't a challenge that a few smart people can fix with the traditional plan and implement approach. Change of this complexity requires a test and learn approach that engages all levels of the organization and leads with a human-centred perspective."
This new human-centred approach is what we, at Great Place to Work, call Innovation by All, seen in leading workplaces that recognize, welcome and expect great things from every employee, no matter who they are or what or what they do in the organization. Our most recent Trust Index Survey data (based on 66,000 responses from Canadian employees) shows that when organizations celebrate people who try new and better ways of doing things at work, regardless of the outcome, people are 2x as likely to feel they make a difference and 3x as likely adapt to changes needed for the organization's success.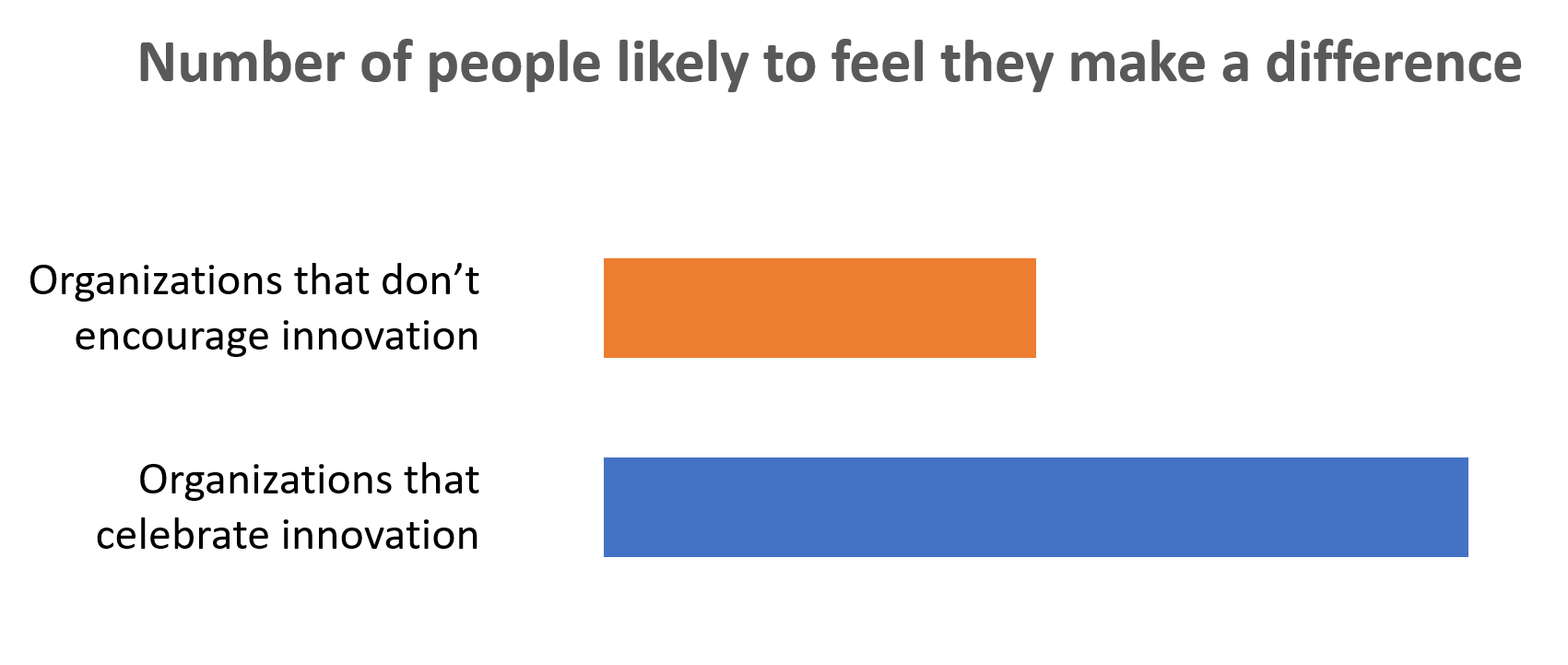 How can organizations ensure they are attracting the best talent out there to help them navigate this new world of work?
"A growing number of people today are looking to build a career that provides them with a sense of belonging and enables them to do work they find meaningful" says Fitzgerald. "This puts pressure on organizations to be crystal clear about their purpose and dedicated to bringing it to life." To do that, organizations need to help their people see how everything they do - from vision and strategy down to day-to-day operations - builds from their purpose.
"When we are able to bring our purpose to life, it energizes our hearts and our minds. Purpose lifts performance and creates space for fulfillment."
Great Place to Work research also shows a very strong correlation between having a sense purpose at work, overall job satisfaction and discretionary effort. When people believe their work has 'special meaning' (i.e. their work is more than 'just a job'), they are 2x as likely to believe their workplace is great and they are 2x as likely to give extra to get the job done.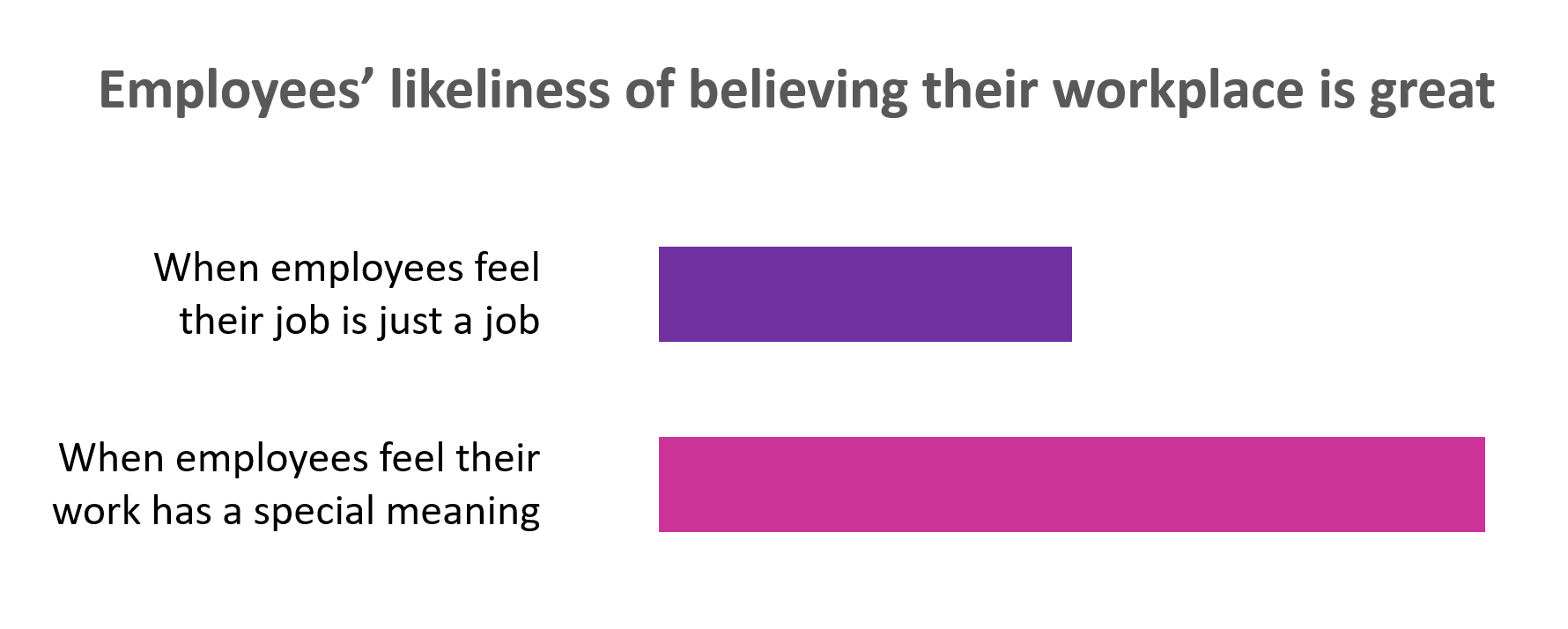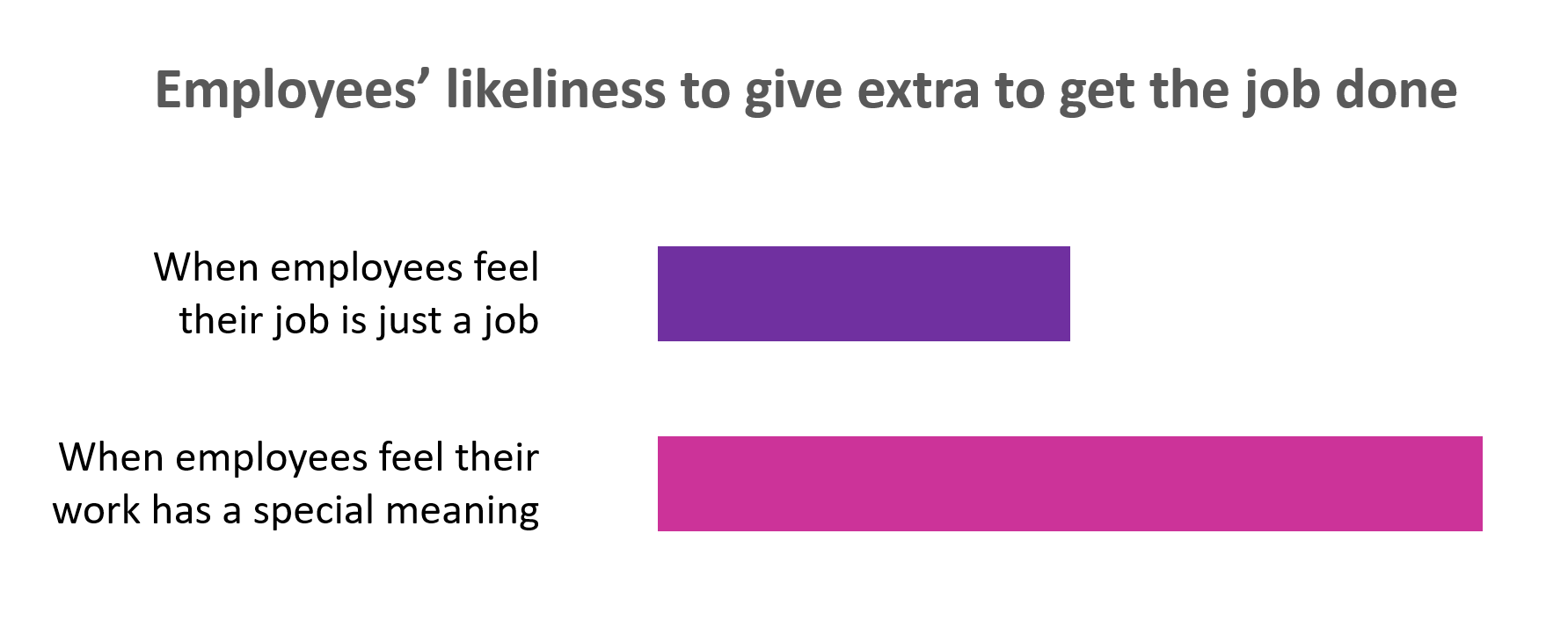 High Trust Workplaces Fuel Innovation
New research from Great Place to Work shows that high-trust workplace cultures are seeing faster rates of success by inviting every employee into the innovation process. By focusing on Innovation by All, these organizations operate with greater agility, beat sales targets, and outperform the competition. Sign up here to receive this research first!
We're looking for great workplaces
Register today to become Great Place to Work Certified™. Get recognized for the outstanding culture you've built or let us help you create a more productive work environment. Or attend one of our free live webinars to learn more.
About our lists
Great Place to Work® publishes a series of Best Workplaces™ lists based on feedback from more than 300,000 employees at Great Place to Work Certified™ organizations across all industries in Canada. Employees complete an anonymous Trust Index© survey, answering questions about how frequently they experience behaviors that create a great workplace, including, the transparency of communication, degree of collaboration, quality of benefits programs, opportunity for professional development, and support for work-life balance. If 7/10 employees respond positively to the survey, the organization becomes Great Place to Work Certified™ for one year. Results from the survey are highly reliable, having a 95% confidence level with +/- 5% margin of error.
About Great Place to Work®
Great Place to Work® is the global authority on high-trust, high-performance workplace cultures. Through proprietary assessment tools, advisory services, and certification programs, GPTW recognizes the world's Best Workplaces™ in a series of national lists including those published by The Globe & Mail (Canada) and Fortune magazine (USA). Great Place to Work® provides the benchmarks, framework, and expertise needed to create, sustain, and recognize outstanding workplace cultures.
Don't miss any of the latest, most valuable news and research on people management in Canada: Sign up for our newsletter, or follow us on LinkedIn and Twitter.
---