Great workplace cultures are built to last. In our recently published Best Workplaces in Canada list, we revealed a handful of very special organizations that are in it for the long haul. This month, Great Place to Work would like to endorse our 'Legends', organizations that have been named to our Best Workplaces in Canada list for 10 years or more!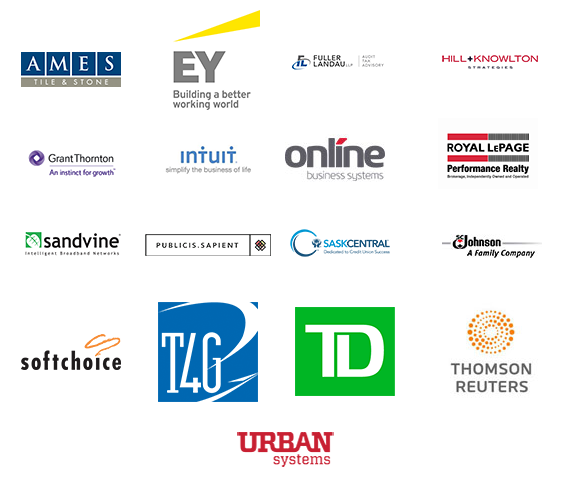 So what keeps these organizations coming back year after year? Sure, the branding as one of the Best Workplaces in Canada is nice (OK, really nice) but the real motivation for embarking on this journey lies much deeper, in a sincere belief that people are the heart of their business.
WHEN THE GOING GETS TOUGH…
Many can lead during prosperous times, but it takes a different kind commitment to lead during a crisis. One thing that makes our Legends stand out? Their people-first strategy does not waver in the face of market fluctuations or operational challenges. Instead, this strategy becomes more important, and acts as a guiding force to do what it right for the organization in the long run, even when it means making difficult decisions in the moment. Over the past 10 years or more, our Legends have built cultures that stand the test of time, surviving (and in many cases emerging stronger) through the ups and downs which are a normal part of the business cycle.
LISTEN TO YOUR EMPLOYEES
Topping the Large and Multinational list this year, Intuit is also celebrating their 10th year as one of the Best Workplaces in Canada. Though the road has not always been easy, keeping a watchful eye and intentional focus on workplace culture has been part of the Intuit strategy since their early days. But according to Jeff Cates, President of Intuit Canada, it is not just leadership, but the whole team at Intuit that keeps this focus alive: "When it comes down to it, although the Intuit leadership team sets the framework, the values and strategies for our business, it's our employees who bring that to life. It's so inspiring to see our employees' passion for creating phenomenal network groups, their drive to give back to the community and the way they strive to live Intuit's mission of powering prosperity around the world. Our employees are also an invaluable barometer for us and it's through their continuous feedback that we adjust course as needed to ensure we are creating an engaging workplace where everyone can do the best work of their lives."
"Our employees are also an invaluable barometer for us and it's through their continuous feedback that we adjust course as needed to ensure we are creating an engaging workplace where everyone can do the best work of their lives."

Jeff Cates, President, Intuit Canada
ACT ON WHAT YOU HEAR
The only thing worse than not asking employees for feedback is asking… and ignoring. Our Legends don't just listen to employees, they make sure employees feel heard. At Fuller Landau LLP, team members have many opportunities to provide suggestions and feedback at all-team meetings, their suggestion box, or on the company survey. But it does not end there. To close the loop, employees receive access to survey data and each has an individual meeting to provide comments and suggestions on the current state. All employee feedback is reviewed by the partners and each year, many changes are implemented as a result. At Fuller Landau, building culture is an iterative process. They're not afraid to admit where they have fallen short and work hard to develop a plan to do better next year – and they rely on employee feedback to ensure this happens.
WORKPLACE TRUST AS A PREDICTOR OF SUCCESS
Many of our Legends use workplace trust as one of their key performance indicators. They see the connection between Trust Index results and business success and this trickles down to the business unit and even individual business leader level. At Grant Thornton LLP, regional and business unit differences on the Trust Index survey are studied closely. Year after year, they find that the business units with the strongest Best Workplace survey results typically have the strongest financial results and the highest client satisfaction measurement scores. At Grant Thornton, high-trust relationships enable them to fulfill their mission of helping clients, colleagues and communities thrive!
THINK YOUR ORGANIZATION IS A GREAT WORKPLACE?
Register today to become Great Place to Work-Certified™. Get recognized for the outstanding culture you've built or let us help you create a more productive work environment.
ABOUT OUR LISTS
Great Place to Work publishes a series of Best Workplaces lists based on feedback from more than 300,000 employees at Great Place to Work–Certified™ organizations across all industries in Canada. Employees complete an anonymous Trust Index© survey, answering questions about how frequently they experience behaviors that create a great workplace, including, the transparency of communication, degree of collaboration, quality of benefits programs, opportunity for professional development, and support for work-life balance. If 7/10 employees respond positively to the survey, the organization becomes Great Place to Work-Certified™ for one year. Results from the survey are highly reliable, having a 95% confidence level with +/- 5% margin of error.
ABOUT GREAT PLACE TO WORK
GPTW (www.greatplacetowork.ca) is the global authority on high-trust, high-performance workplace cultures. Through proprietary assessment tools, advisory services, and certification programs, GPTW recognizes the world's Best Workplaces in a series of national lists including those published by Fortune magazine (USA) and The Globe & Mail (Canada). Great Place to Work® provides the benchmarks, framework, and expertise needed to create, sustain, and recognize outstanding workplace cultures.
Follow GPTW online at www.greatplacetowork.ca and on Twitter at @GPTW_Canada
---