Great Place to Work® is pleased to announce the 2019 list of Canada's Best Workplaces™ in Professional Services. To be eligible for this list, organizations must be Great Place to Work Certified™ in the past year, and work primarily in the Professional Services industry. We determined the best based on employee responses to our Trust Index Survey.
Click here to see the full list
The Professional Services industry includes organizations and professions in the tertiary sector of the economy that offer customized, knowledge-based services to clients. This includes a wide range of educated professionals such as lawyers, accountants, architects, engineers, and advertising professionals, to name a few.
Organizations in this sector don't have a product to sell—their product is their people.
Employees working in these firms are typically bright, well-educated in their field and motivated—which makes them their organization's best source of ideas.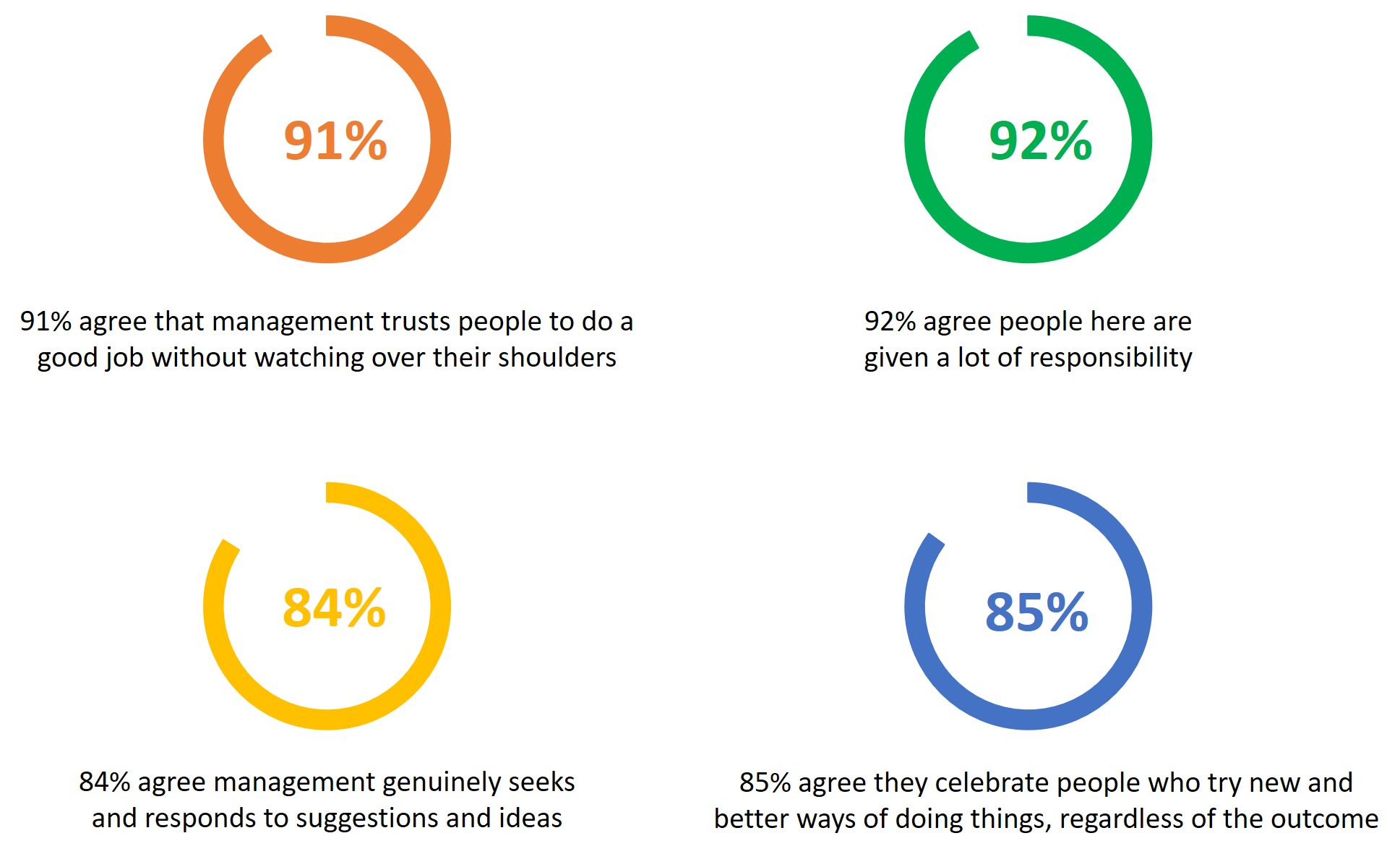 Here's how the winning organizations encourage employees to share them:
Soliciting employee ideas
Global tax services firm Ryan recently launched RyanInnovates, a new online portal which invites employees to view and make suggestions on how the firm can do things better. The new platform provides full visibility to ideas that are coming in and how the firm is acting on them. Each suggestion appears on a social media style platform that is visible as a firm-wide news feed and employees are encouraged to "like" or "dislike" the suggestion. Ideas that achieve 25 "likes", regardless of "dislikes", are guaranteed to be considered by management and will receive a response. In the first year, 248 ideas were submitted through the RyanInnovates platform, and 101 of them resulted in action taken by the Firm.
Two-way dialogue
At engineering firm JMP Solutions, no staff meeting ends until Three Hard Questions are asked and answered. Members of staff are given the opportunity to post the questions anonymously before the staff meeting or they may ask them live in person at the end of the meeting. Questions are answered immediately by the executive team. This creates an open communication environment and a sense of safety in asking questions.
Think tanks
Global staffing firm Randstad uses a Fierce Conversation model to draw out different perspectives and ideas in meetings they call Think Tanks. The leader of the meeting is encouraged to invite participants with diverse insights from across all lines of business (not just their own teams) to discuss solutions to a challenge or issue. Think Tanks break down silos and increase collaboration among employees. Participants come with differing and often competing perspectives on solutions to the challenges. The leader's job during the meeting is to ensure that everyone's views are heard. Think Tanks are best used when new ideas need to be generated and the participants can actually influence the decision. In the past year, Think Tanks have resulted in a number of new initiatives related to recruitment, onboarding and diversity.
We're looking for great workplaces
Register today to become Great Place to Work Certified™. Get recognized for the outstanding culture you've built or let us help you create a more productive work environment. Or attend one of our free live webinars to learn more.
About our lists
Great Place to Work® publishes a series of Best Workplaces™ lists based on feedback from more than 300,000 employees at Great Place to Work Certified™ organizations across all industries in Canada. Employees complete an anonymous Trust Index© survey, answering questions about how frequently they experience behaviors that create a great workplace, including, the transparency of communication, degree of collaboration, quality of benefits programs, opportunity for professional development, and support for work-life balance. If 7/10 employees respond positively to the survey, the organization becomes Great Place to Work Certified™ for one year. Results from the survey are highly reliable, having a 95% confidence level with +/- 5% margin of error.
About Great Place to Work®
Great Place to Work® is the global authority on high-trust, high-performance workplace cultures. Through proprietary assessment tools, advisory services, and certification programs, GPTW recognizes the world's Best Workplaces™ in a series of national lists including those published by The Globe & Mail (Canada) and Fortune magazine (USA). Great Place to Work® provides the benchmarks, framework, and expertise needed to create, sustain, and recognize outstanding workplace cultures.
Don't miss any of the latest, most valuable news and research on people management in Canada: Sign up for our newsletter, or follow us on LinkedIn and Twitter.
---