Great Place to Work® is pleased to announce the 2018 list of Canada's Best Workplaces™ in Retail and Hospitality. To be eligible for this list, organizations must be Great Place to Work®- Certified™ in the past year and work primarily in the Retail or Hospitality Industry. We determined the BEST based on employee responses to our Trust Index© survey.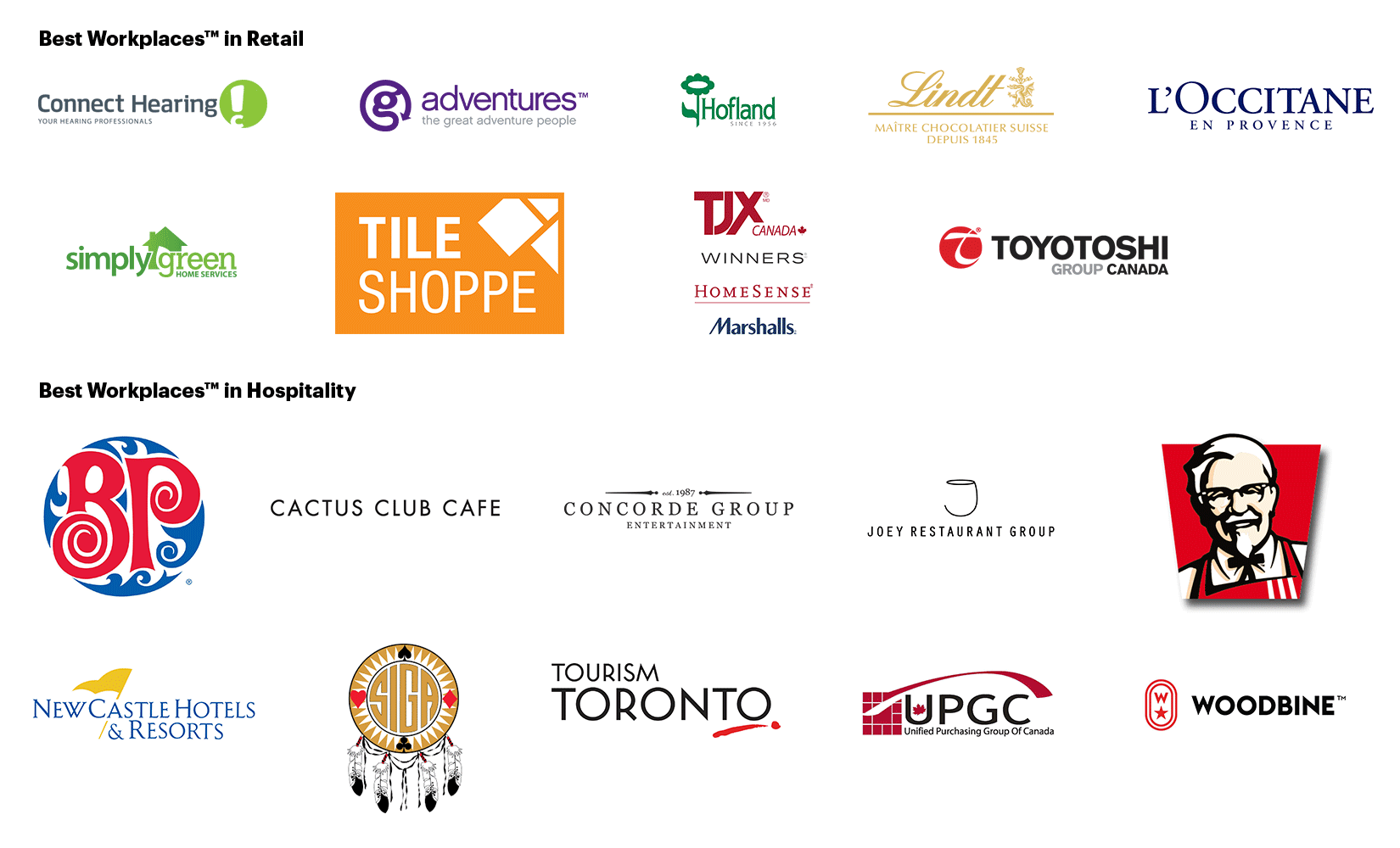 At this year's Best Workplaces™ in Retail and Hospitality, employees, especially those working on the front lines, are engaged and inspired to become effective brand ambassadors. At the Best Workplaces™ in Retail and Hospitality, 81% of employees feel they make a difference to the company's success, 90% are proud to tell others where they work and 81% want to work there for a long time. Here are some of the secrets of their success:
HIRE FOR FIT
At adventure travel company G Adventures, video interviews have replaced the traditional "phone screen" as they provide a better opportunity for the candidate to show their unique personality, skills, and anything else they may want to showcase. The questions are tailored to each position and gives G Adventures an opportunity to screen the candidate regarding motivation, communication, experience and culture fit.
GRASSROOTS SUGGESTIONS
At Saskatchewan Indian Gaming Authority, grass roots ideas and suggestions can be the most impactful. Employees at SIGA whose ideas or propositions create greater efficiency or dollar savings in their department and/or for SIGA overall can be nominated for the Suggestions Award. Employees presented with this award receive a $100 gift card and plaque.
THANKS FROM THE TOP
The President of TJX Canada sends out personal handwritten notes to associates he's heard good news about. It could be a promotion or special achievement - anything that deserves recognition. Between 200 and 300 notes go out every year and TJX Associates are thrilled to receive this personal note of thanks and recognition.
SURPRISE AND DELIGHT
Each Friday from Victoria Day weekend to Labour Day, a Toyotoshi Group - Quebec employee name is drawn out of a hat to have their vehicle cleaned for the weekend!
EXCITING CAREER DEVELOPMENT
For employees wanting to build a long term career in the restaurant industry, JOEY offers an industry leading culinary apprenticeship program. This is a three-year commitment where the apprentice will have an opportunity to participate in an extensive training program that will provide them with an opportunity to develop a strong foundation in cooking and ensure that they learn the basics and the traditions while challenging creative abilities. The fundamentals that they learn through completing the apprenticeship will support their skill development and ultimately their career progression.
AN INDUSTRY UNDER FIRE?
As new government regulations come into place, minimum wage employers, including the retail and hospitality industries, are being forced to rethink their business models. Sign up to be the first to read our newest research, which examines the challenges facing this industry and what this means for company culture.
THINK YOUR ORGANIZATION IS A GREAT WORKPLACE?
Register today to become Great Place to Work-Certified™. Get recognized for the outstanding culture you've built or let us help you create a more productive work environment.
ABOUT OUR LISTS
Great Place to Work® publishes a series of Best Workplaces™ lists based on feedback from more than 300,000 employees at Great Place to Work–Certified™ organizations across all industries in Canada. Employees complete an anonymous Trust Index© survey, answering questions about how frequently they experience behaviors that create a great workplace, including, the transparency of communication, degree of collaboration, quality of benefits programs, opportunity for professional development, and support for work-life balance. If 7/10 employees respond positively to the survey, the organization becomes Great Place to Work-Certified™ for one year. Results from the survey are highly reliable, having a 95% confidence level with +/- 5% margin of error.
ABOUT GREAT PLACE TO WORK®
GPTW (www.greatplacetowork.ca) is the global authority on high-trust, high-performance workplace cultures. Through proprietary assessment tools, advisory services, and certification programs, GPTW recognizes the world's Best Workplaces in a series of national lists including those published by Fortune magazine (USA) and The Globe & Mail (Canada). Great Place to Work® provides the benchmarks, framework, and expertise needed to create, sustain, and recognize outstanding workplace cultures.
Follow GPTW online at www.greatplacetowork.ca and on Twitter at @GPTW_Canada
---