Regional differences aside, the Best Workplaces in the four most populous provinces of Canada know that creating an environment with strong people-centred values is vitally important. This became even more apparent as we were evaluating the commonalities of the organizations that made the Best Workplace lists in Alberta, British Columbia, Ontario and Quebec. As part of this evaluation we examined employee responses to key culture questions and what we found was remarkably consistent: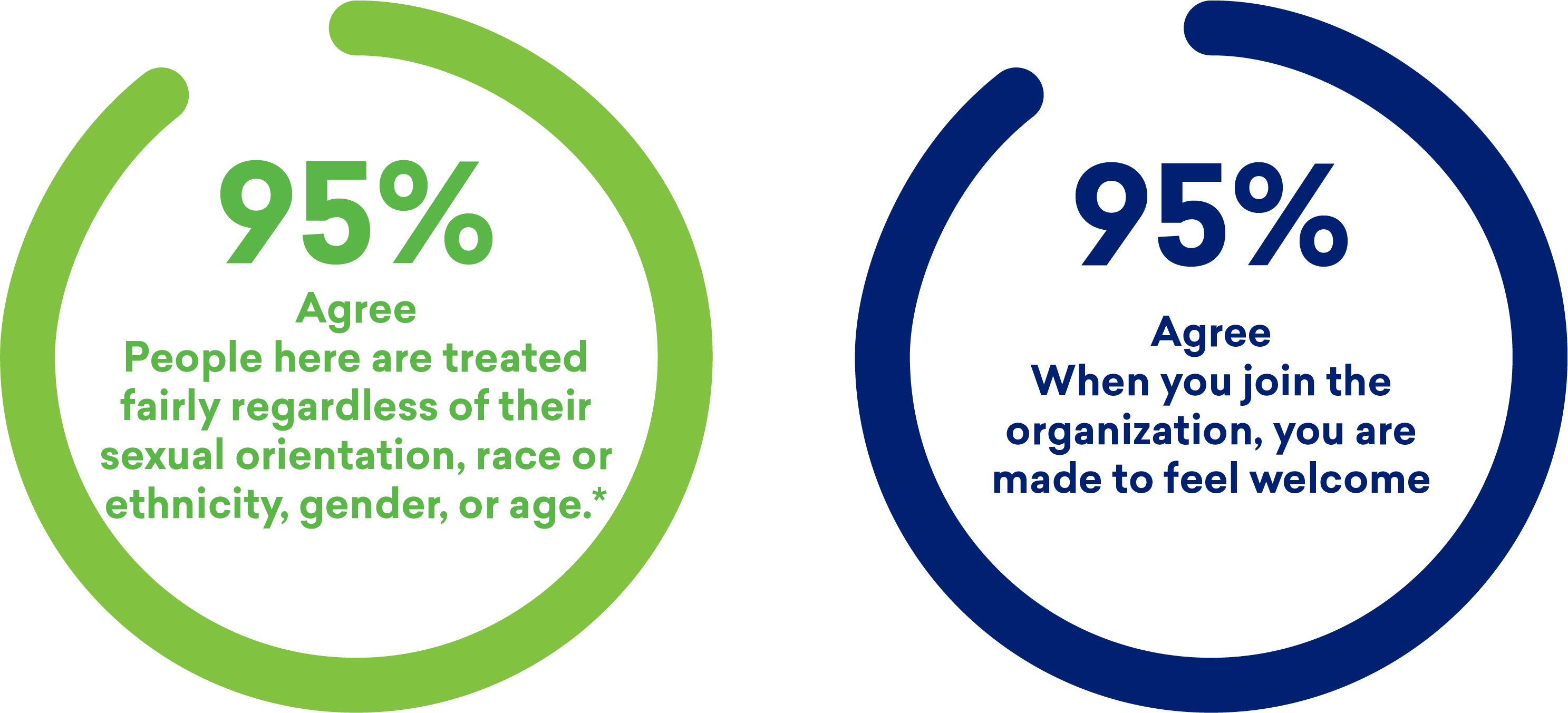 * Aggregated average from four individual questions based on fair treatment regardless of sexual orientation (97.0%), race or ethnicity (95.6%), 3gender (94.5%), and age (93.1%).
Clearly inclusion and welcoming practices feature prominently in the Best Workplaces within these regions so we decided to dig deeper and ask CWB Financial Group, Raymond James, Hyundai, and Explorance what they were doing specifically to earn such high praise from their employees in these areas. Not surprisingly we discovered some key themes that we can all learn from.
Inclusion from the Top
When it comes to inclusion, practices are woven throughout the organizations, but there is a clear and distinct tone from the top that provides direction and establishes priority. At Hyundai, headquartered in Ontario, as part of their 'Discussions with Don' initiative the President & CEO, Don Romano, sits with employees, asks for their feedback, listens intently and takes notes to share with the HR Director and help determine actionable items. Its this kind of inclusive practice modeled at the top, that tells employees it's safe to bring their whole selves to work and that the organization truly wants to hear their perspectives and ideas regardless of their role, experience, education, or any other factor that makes them unique.
Building Employee Communities
Furthering the message that people's unique ideas, perspectives and backgrounds are important; these organizations also offer Employee Resource Groups (ERGs), which bring together people with shared identity and experience to support one another in their personal and professional development. CWB Financial Group, with headquarters in Alberta, has eight ERGs to connect employees and allies with like interests and mindsets – these include Global (Newcomers to Canada), Health 360 (to facilitate mental wellness), CWB Noble (for Black employees), VIDA (Visible and Invisible Disability Advocates), Sharing Circle (for Indigenous Peoples), Pride for the LBGTQ2S+ community, CWB Women and their newest ASPIRE (Asian and South Pacific Islanders Rallying for Equality). Establishing ERGs creates opportunity for employees to support and empower one another, build their community, advance their concerns to leaders, and create a respectful and inclusive culture.
Difficult Conversations
ERGs are an important feature of an inclusive and diverse workforce and they pave they way for organization-wide conversations around inclusion. Recognizing that these conversations may be difficult and challenging is also important. At Raymond James in British Columbia, when it comes to diversity they are not silent. They engage in transparent initiatives to champion for change and tackle the roots of bias. In partnership with their national and global inclusion councils, they share stories, including micro-learning videos which feature challenging topics like wearing a hijab and Black Lives Matter. By talking openly like this and including uncomfortable topics, you can start the journey toward honest conversation and perhaps even uncover deeply rooted sources of bias and intolerance you never imagined existed.
Celebration of Diversity
And while some parts of the inclusion journey can be awkward and uncomfortable, it's important to infuse celebration into the process as well. After all, the whole point of being inclusive is to capture the vibrancy of the differences between us and appreciate the values we share. Explorance, a global company with a head office in Montreal, enjoys a very diverse work force and they celebrate their diversity at every opportunity. To show how much they value their women, this year, as part of Women's History Month, they raised awareness about women in technology and their many contributions to the field. For Pride month they are offering an "Allyship and LGBTQ+ Talk Space" session with a special guest who has worked for various advocacy groups and LGBTQ+ organizations. They organized this session with input from LGBTQ+ employees making sure to include them in the process. These types of high profile, celebratory events not only raise awareness for different employee groups, they also encourage other employees to be allies and supporters.
Inclusive Welcoming
In fact, the inclusive message starts right from the beginning at Explorance as they integrate inclusion with their welcoming practices. This lets future employees know there is a place for everyone within their organization. They are tailoring their "Welcome Basket" for new employees to include treats from all the different countries where they have offices. This is in addition to the local treats and the essential Explorance Swag kit that is sent to new employees before they start, letting them know they are looking forward to having them onboard! Fun and thoughtful touches like a welcome basket, a personalized note, or an invite to an event before day one are the types of practices that tell new people that they are appreciated right from the start.
Culture Orientation
These warm, welcoming practices stand out in the Best Workplaces on our regional lists and they make a strong, positive impression on the people that work there. These companies also do a great job of orientation and make sure to add elements that go beyond the typical forms, IT checklists, and office tour. Including a deeper dive into the culture and core values and providing an opportunity to meet with senior leaders during orientation is important. At Hyundai new hires meet with their entire department and they have a team lunch on their first day (these have been adapted to the pandemic as appropriate). They also enjoy a new hire breakfast (currently a virtual New Hire Coffee Chat) to collect feedback on the welcoming experience at Hyundai.
Asking for Feedback
The practice of asking for feedback and developing strong communication is another key element to effective welcoming. Using engagement surveys allows Raymond James to learn how employees feel about leadership, work environment, personal priorities and more. They also emphasize their four pillars of inclusion from day one (psychological health & safety, guiding behaviours, diversity and employee feedback) and these provide the foundations for how they treat each other and are rigorously supported through training. When new employees understand the foundations of the culture and understand that their feedback is genuinely wanted, it makes the orientation process much smoother and inviting.
The Buddy System
As warm and inviting as the first few days or weeks can be, it's still intimidating to join a new organization. That's where learning from current employees and creating a buddy system becomes important. New people have questions and its not always obvious who has the answer, or they may not ask for fear of looking like they aren't getting up to speed fast enough. Donut Call Ambassadors at CWB Financial provide the perfect partner for new employees to reach out to. All new employees are partnered with an ambassador for a series of informal 'coffee connect' discussions. Ambassadors reach out as a casual connection to support networking and there is no formal agenda – they are there as a supportive resource. Having this type of support is invaluable to the welcoming process and brings the inclusive message full circle.
Everyone is welcome. Everyone is valued. Everyone's uniqueness is recognized, appreciated, and respected. And that truly is what being a great workplace is all about. As we celebrate the Best Workplaces in Alberta, British Columbia, Ontario and Quebec and indeed across Canada we can learn from how they welcome and include their people and strive to adopt great practices ourselves.
Is your organization ready to win a Best Workplaces™ award? Great Place to Work-Certification™ is the first step to being recognized as a people-first organization. Learn how you can earn the prestige of Certification and be named to one of our Best Workplaces lists today.
About Great Place to Work®
Great Place to Work® is the Global Authority on Workplace Culture. We make it easy to survey your employees, uncover actionable insights and get recognized for your great company culture. Learn more about Great Place to Work Certification.
---