At Great Place to Work® our focus is on measuring trust in the workplace, and the quality of the employee experience, so when we have the pleasure of working with organizations that demonstrate high levels of alignment between their mission, vision, and employee experience we call them out. MakeShift is just that, an organization that lives its brand.


MakeShift operates from a core belief that happy employees drive growth. Their product is built on this value and their company culture thrives on it. In fact employee happiness is an essential element of their purpose-driven business model, operating with a people-first philosophy in everything they do – from how they treat each other to their products' design, delivery and support.
This focus on happy employees has resulted in incredible growth. MakeShift has consistently hit double-digit growth and increased the number of employees. Their scheduling and time tracking solution gives shift workers and scheduling managers time back to focus on what matters most, including employee well-being, work-life balance, open communication, and inclusivity in the workplace.
MakeShift's employee scheduling solution improves the lives of their clients' employees helping clients operate at their very best. Makeshift proudly shares their own employees are also reaping the rewards and satisfaction that come from working for a people-first mindset with 88% of employees agreeing that, taking everything into account, MakeShift is a great place to work.
Let's dive into some specifics of what MakeShift is doing to cultivate happy employees and a strong workplace culture.
Purpose Driven

Company Culture
MakeShift emerged in 2014 as a scheduling solution for nurses. Today it provides a simple, intuitive scheduling system for businesses of any size across all industries. At its core is a mission to address the challenges faced by shift workers and alleviate the toll shiftwork takes by giving them more control of their time. In fact they've found that the number one concern of a shift worker is the lack of their schedule control, potentially leading mental health wellness issues. As a result, MakeShift's whole purpose is oriented around improving the mental health and well-being of their customers and they apply those same values internally.


"At MakeShift, our purpose as an organization is to give people their time back to focus on what really matters."
Adam Greenberg, CEO Makeshift



Their CEO, Adam Greenberg, is deliberate in making sure his people enjoy the same well-being and work-life balance he is helping his clients' employees achieve.
MakeShift's workplace is outcome focused. Work isn't a place… it's what you do! As a result, this team is 100% virtual, which means the opportunity to working from home - or anywhere for that matter.
They give their people time for wellness. They offer a discretionary five days paid days off in addition to three weeks vacation and occasional FIFF (Forget it – it's Friday) days to extend long weekends.
This team wants their people to love what they do. They hire people who fit well in their role and can grow with the organization. A generous educational stipend supports employees interested in continuous learning.
The focus on inclusive, transparent and collaborative teams is clear. MakeShift encourages and prioritizes gender diversity and has proudly increased the number of female leaders by 100% in the last year. They regularly use employee feedback to inform decisions and are also committed to fair and transparent pay models.
All of these practices serve to reinforce an overall purpose and philosophy that puts people first. They also contribute to a sense of respect and fairness that correlates with happy employees, leading to a strong culture and growth. Employees feel respected when they know their wellbeing is a priority and are included in decisions. Clearly MakeShift employees experience high levels of respect and fairness as the organization achieved 91% agreement on both these areas on the Great Place to Work Trust Index Survey©.
Values Focused

Company Culture
Purpose guides everything Makeshift does including the creation of core values. No surprise, their values were determined through a bottom-up exercise where cross-functional teams collaborated to identify what they believed represented MakeShift's values: Fun, Unity, Community and Kaizen.
How they live and reinforce these values in daily practice is a key contributor to happy employees, a strong company culture and corporate growth.
MakeShift knows the work they do is important, but they also understand the importance of having fun at work, and the impact fun has on mental health. They host virtual games nights as well as team bonding events like ESCAPE room challenges. They also host a monthly all-hands meeting to celebrate successes – business and personal. They emphasize new babies and first homes, birthdays, anniversaries, and engagements, as well as celebrate success with gift cards, company shares, and additional time off.

They understand the importance of unity and teamwork, encourage communication and foster a culture of collaboration. To facilitate this there is limited top-down hierarchy within the company. Employees feel part of the team from day one with structured, personalized onboarding that includes a welcome package (laptop & electronic accessories, coffee for a week, pastries for the day, and a detailed onboarding guide) a few days before they start.

The belief that business exists to improve lives, drives their community outreach, and undoubtedly contributes to their high level of employee happiness, growth, and success. MakeShift runs an annual #whatreallymatters campaign focusing on areas that are important to their employees and the communities in which they work. They recommend locations and initiatives, and their employees vote. In 2022 they ran a campaign to provide food security in Whistler, BC, where they have a large customer who asked for support. This resulted in a financial donation of almost $10,000. Concurrently, they raised awareness and funds for affordable housing focused on low-income women and children on the sunshine coast where their CEO lives. Aligning with their client's mission, the team fundraised for Alberta children's health services, which is not only their largest client but where an employees' daughter was being treated for leukemia.

As a software company continuous improvement (Kaizen) is more than a value, it is daily practice. MakeShift knows the weight they carry and are always looking at improving their app to give shift workers a little more control over their schedules and their lives.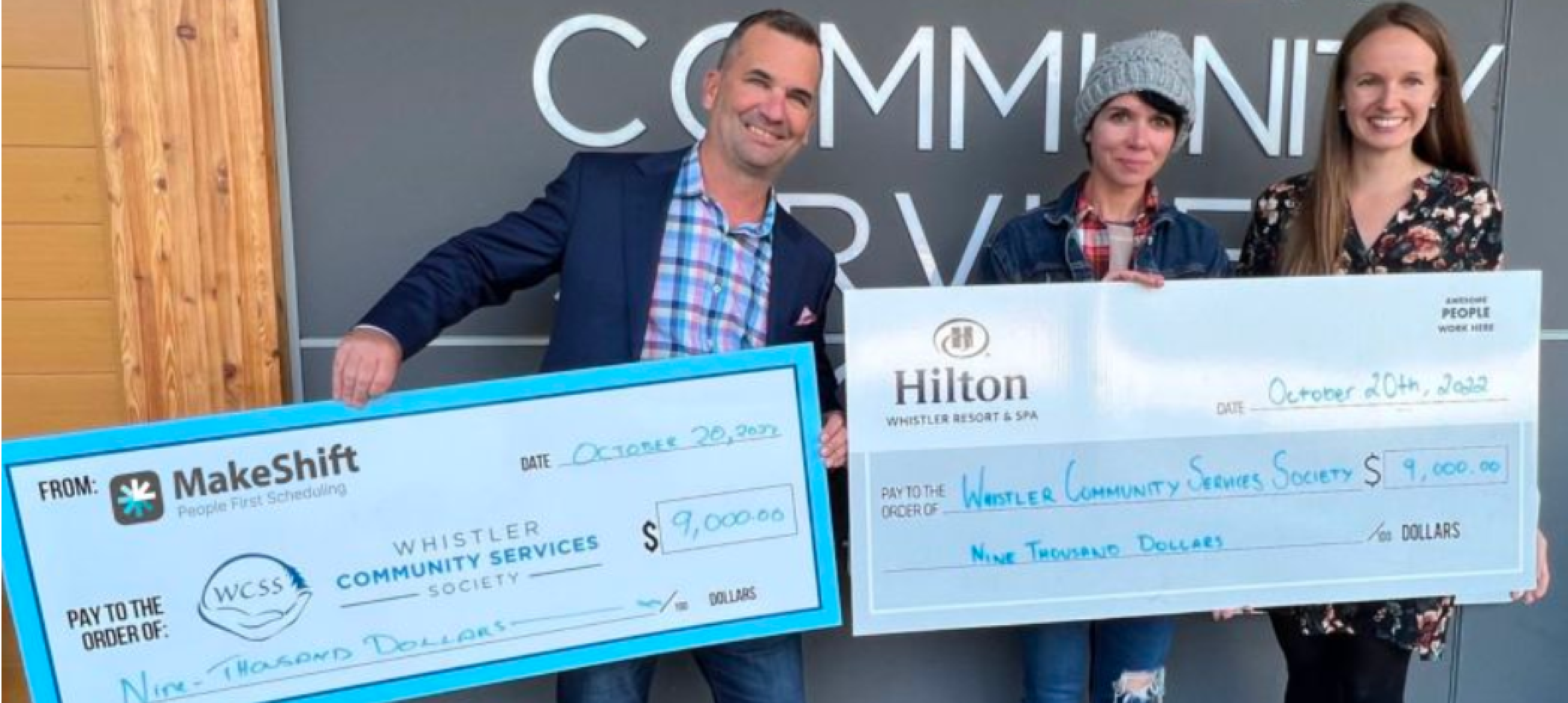 An overarching theme within these values and their purpose driven culture is teamwork and camaraderie (96% of employees agreed with a series of statements related to camaraderie on the Trust Index Survey©). Working together, having fun together, improving communities together – these all combine to strengthen the team, create happy employees and build a strong and cohesive company culture that facilitates corporate growth. This is the foundation of MakeShift's success and it is what allows them to improve lives and build healthier communities, because after all, isn't that #whatreallymatters?
---