Great Place to Work® is pleased to announce the 2017 list of Best Workplaces in Canada for Learning and Development. To be eligible for this list, organizations must be Great Place to Work- Certified™ in the past year. We determined the BEST based the level of employee agreement with the statement "I'm offered training and development to further myself professionally" as well as the quality and range of their learning and development programs.
AHEAD OF THE REST
Employee agreement with the statement "I'm offered training and development to further myself professionally"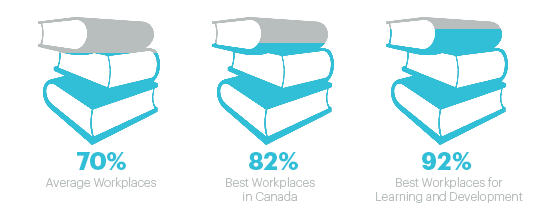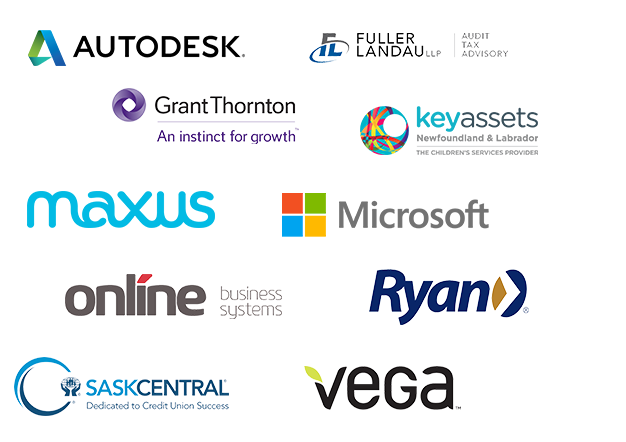 This year's Best Workplaces for Learning and Development are extremely diverse in terms of size, industry and budget. There is no one-size-fits-all approach to creating a great Learning and Development culture at work; these organizations use a rich mix of formal and informal approaches to help employees develop both personally and professionally. The result is an expanded definition of workplace learning and development that happens not just a couple of times a year, but daily, that primarily exists beyond the training room walls and brings a greater expectation for employees to take an active role in the process.
NEW MODEL OF WORKPLACE LEARNING AND DEVELOPMENT

SHARED LEADERSHIP
Grant Thornton recognizes that to be successful they need to share responsibility for developing great ideas and doing things differently with people at every level in the firm. Leaders are encouraged to provide opportunities for people earlier in their career to lead important projects and aspects of the business. Each employee has a future-focussed growth plan, orientated toward development rather than performance assessment. This subtle shift in their performance management approach is designed to instill confidence to help people grow.
CLEAR CAREER PATHS
Microsoft Canada's Career Guide outlines the results and competencies required by all careers across the company. Employees can explore how specific careers progress at Microsoft and have guidance to effectively navigate their chosen career path. All employees create a Career Development Plan each year, and with support from their manager, align their individual development goals with Microsoft's business objectives. Resources such as a career assessment and tools and training on career planning and development are provided year round to help employees with career development.
EMPLOYEE INNOVATION
At Autodesk, regular Hackathons provide employees with an opportunity to work on an innovative idea or a project outside of the scope of their normal work. Hackathons are normally organized for a full team and are blocked in their schedule to avoid conflicting priorities. People can use those days to work in teams or alone to develop an idea or simply learn and grow their skills. At the end of the Hackathon, a showcase is organized in which participants present their ideas to a panel of judges composed of a mix of product management and engineers.
LEARN THEN TEACH
At Online Business Systems, employees are given a generous Professional Development Budget of days and dollars to achieve their development goals. What's unique about this program is that employees are eligible for a reimbursement to their pro-d account if they, in turn, create a whitepaper or conduct a lunch & learn to share the information they gained with their peers, maximizing the company's ROI on training expenditures!
MAKE IT PERSONAL
At Key Assets Newfoundland and Labrador, in their line of work it is important that staff can acknowledge and process their inner experiences. As such, they focus on promoting personal development along with professional development. Employees participate in a collaborative goal setting process that is focused on performance enhancement as well as personal and professional growth. As a not-for-profit organization, they do not have a large budget for training, but use creative ways to fund it such as renting out their training room after hours and using credit card points to send staff to conferences.
LEARNING AND DEVELOPMENT CULTURES FOSTER LONG-TERM CAREER COMMITMENT
At the Best Workplaces for Learning and Development, an investment in employee development is an investment in the future. Our newest research suggests that organizations with strong Learning and Development cultures promote employee motivation, work enjoyment and long-term career commitment. Sign up here to receive this research first!
THINK YOUR ORGANIZATION IS A GREAT WORKPLACE?
Register today to become Great Place to Work-Certified™. Get recognized for the outstanding culture you've built or let us help you create a more productive work environment.
ABOUT OUR LISTS
Great Place to Work publishes a series of Best Workplaces lists based on feedback from more than 300,000 employees at Great Place to Work–Certified™ organizations across all industries in Canada. Employees complete an anonymous Trust Index© survey, answering questions about how frequently they experience behaviors that create a great workplace, including, the transparency of communication, degree of collaboration, quality of benefits programs, opportunity for professional development, and support for work-life balance. If 7/10 employees respond positively to the survey, the organization becomes Great Place to Work-Certified™ for one year. Results from the survey are highly reliable, having a 95% confidence level with +/- 5% margin of error.
ABOUT GREAT PLACE TO WORK
GPTW (www.greatplacetowork.ca) is the global authority on high-trust, high-performance workplace cultures. Through proprietary assessment tools, advisory services, and certification programs, GPTW recognizes the world's Best Workplaces in a series of national lists including those published by Fortune magazine (USA) and The Globe & Mail (Canada). Great Place to Work® provides the benchmarks, framework, and expertise needed to create, sustain, and recognize outstanding workplace cultures.
Follow GPTW online at www.greatplacetowork.ca and on Twitter at @GPTW_Canada
---