Balancing high productivity, personalized service, and knowledge management whilst ensuring you attract and keep the best and brightest talent is a unique challenge often reserved for those in the professional services industry. When your success as a business is dependent on collaboration with others, both within your organization and at the client level, a team of expert professionals and a strong reputation are essential.
With a high-performance culture and a strong focus on personal growth and development, Clark Wilson LLP has made a lasting impression on us here at Great Place to Work. As an organization that is dedicated to empowering companies, individuals and other stakeholders to overcome challenges and thrive, it's not surprising to learn that employees here find their work to be meaningful and a great source of pride. In fact, 89% of people at Clark Wilson have told us they feel proud of all that the company has accomplished.
I recently had an opportunity to meet with Managing Partner James Speakman to discuss how Clark Wilson has built their award-winning culture and how it has helped them flourish even through the pandemic. Speakman was also recognized earlier this year by Business in Vancouver as one of the province's most influential leaders.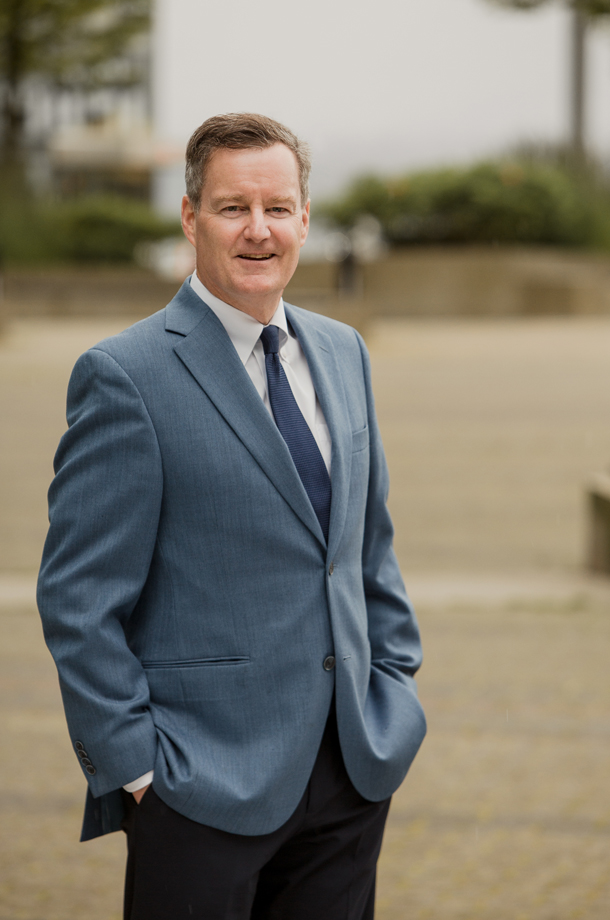 James Speakman, Managing Partner at Clark Wilson LLP
Accelerating Personal and Professional Growth
In recent years, the firm has expanded to over 260 people and is still growing! With a robust training and development program for all employees that begins the moment one joins the company, there is ample occasion to flourish.
Whether one is starting their career or they are an industry veteran, Clark Wilson offers a wealth of opportunities to grow and hone professional skills. I wish I could detail them all (because there are so MANY) but I'll stick to a few that caught my eye: an annual tuition reimbursement available to all employees for education and job-related training; a leadership development program focused on improving coaching skills and psychological safety in the workplace; and an innovation advisory panel where employees have the chance to submit their ideas on how to improve processes for cash prizes, bragging rights, and even have winning concepts come to life.
But that's not all. The firm also pays for professional memberships, event attendance and sponsorship on top of hosting a wide array of speakers from a multitude of backgrounds to present on topics such as mental wellness, work-life balance and time management to name a few.
"We've all heard that anecdote where one executive says 'What if we pay for employees' training and education and they leave us?', and the reply is 'What if we don't, and they stay?'. I think we've really embraced that way of thinking here. We want our entire team to be at the top of their game. It benefits the individuals, and it certainly benefits our firm to ensure that we're staying current with development opportunities to continuously provide clients with the highest calibre of service." says Speakman.
Advancing a Culture of Appreciation
At Clark Wilson, they know they can't succeed without the hard work and dedication of their employees, that's why they put such an emphasis on recognizing the contributions of each and every person on the team.
April is a special time for employees in this company as they come together to celebrate Staff Appreciation Week with numerous gifts and special treats. Work anniversaries are another cause for celebration and anniversaries of 5 year increments are marked with flowers, team-wide tributes, cash rewards and paid days off.
A high-performance company needs high-performing people, and the firm offers prosperity bonuses based on the firm's performance overall as well as individual performance-based bonuses and a generous holiday bonus accompanied by a note of heartfelt thanks.
Building Better Business Together
This is a place where everyone knows your name and makes a big effort to get to know you on a personal level.
84% of employees have said that management shows sincere interest in them as a person and not just as an employees. It also happens to be a fun place to work where everyone brings different ideas, perspectives and backgrounds. 88% of employees went on to describe Clark Wilson as having a "family" or "team" feeling and 90% say that people here really care about each other.
By ensuring that the organization is competitive in terms of rewards, developmental opportunities and the quality of the work environment, Clark Wilson has cultivated a genuine culture of care with 91% of employees telling us that this truly is a great place to work.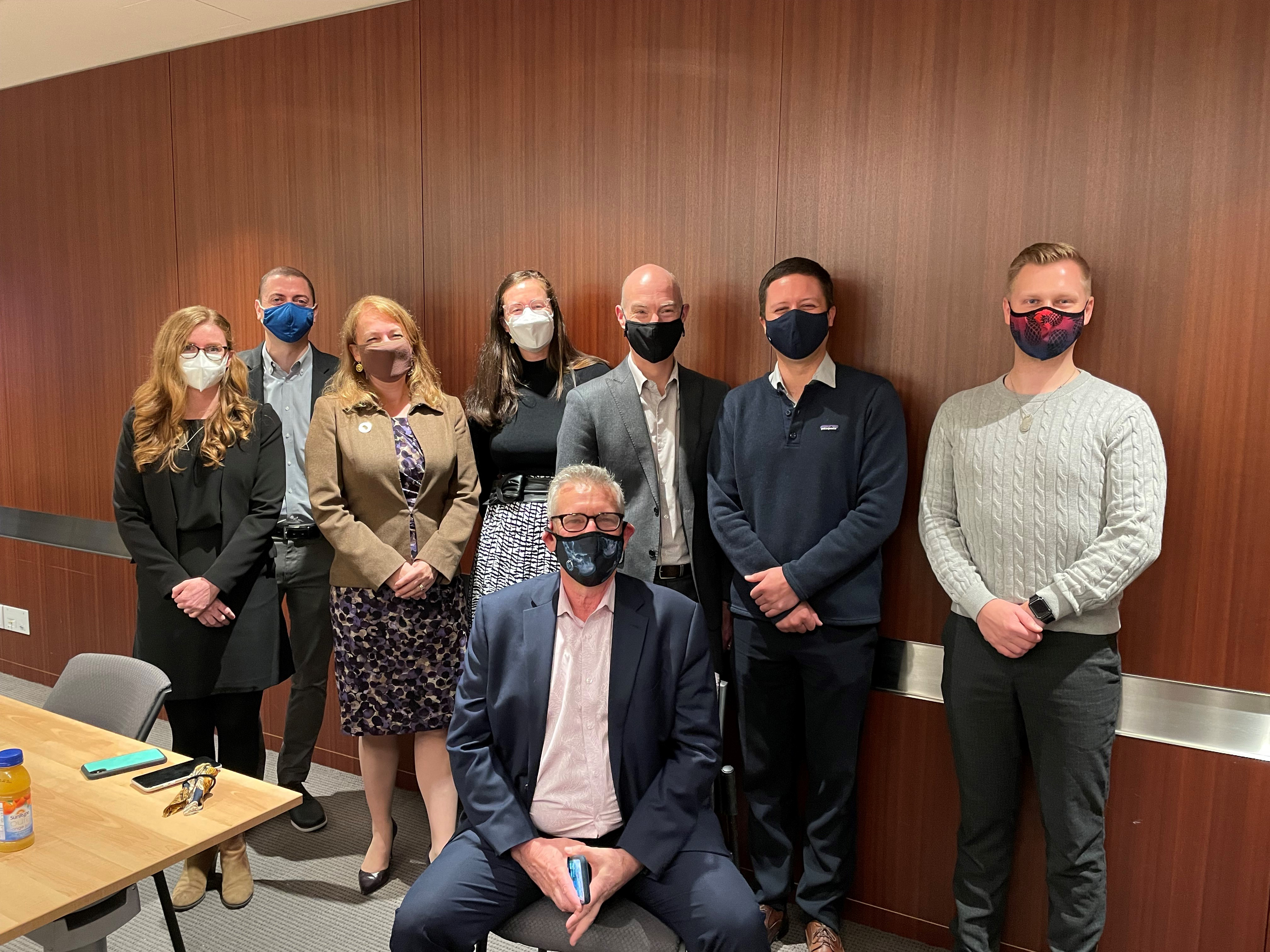 Celebrating together: the firm's Estates & Trusts group was recently shortlisted for a prestigious international award from the Society of Trust and Estate Practitioners.
Keeping The Lines of Communications Open
During what was arguably one of the most challenging times for many organizations, Clark Wilson became even more committed to supporting their people when they needed it most.
As the pandemic progressed, so did the firm's ability to strengthen connections and create a sense of community. Speakman stresses the importance of amplifying communications to ensure that the team stays connected with one another and that no one is left behind.
One example of this was the Morning Email. At the start of the pandemic, Speakman sent notes of encouragement and kindness to the entire team. The emails were a tremendous success, and Speakman encouraged others from across the firm to join in to share their experiences and words of wisdom with teammates. What started in earnest as messages of compassion and understanding became an 8.5-month daily email series that helped the team really get to know and appreciate each other.
To this end, Speakman also encourages leaders across the organization to increase check ins within their teams to a weekly basis and to make connecting with individuals part of the daily routine. Combined with Clark Wilson's regular monthly meeting programs which include The 33, Unplugged, and their Town Hall, employees are in constant communication with their teammates.
The 33 isn't the typical corporate meeting one might expect. At The 33, a different lawyer is chosen to select the opening music and breakfast to be enjoyed by attendees. It's a high energy meeting that provides a good sense of what's happening at the firm in 27 minutes (or less), including fun poll questions interspersed throughout and quick spotlights on teams. The Unplugged sessions feature Speakman in conversation with a different lawyer each month to discuss what they do at Clark Wilson, their background, what they bring to the team and what attracted them to the firm, and tons of personal anecdotes and fun. As with The 33, the interviewee will choose the playlist featuring the songs that they love. Town Hall meetings provide an opportunity to hear from Speakman and the executive team about strategic updates, as well as discuss news and events that people would want to dig into.
"While many of our meetings do include discussion of business, the primary goal of each of these activities is actually to build connection amongst our people to ensure that we're all in the same boat and going in the same direction." explains Speakman.
The importance of these touchpoints has grown over the course of the pandemic, as the majority have employees have been working remotely. In doing so it helps keep those bonds intact while the organization works together, apart.
"The benefits of this practice are incredibly powerful. It builds a happy and productive team that is empowered to do their best work and it helps attract top candidates to join the firm. Our clients benefit enormously from having a highly-integrated team that provides holistic approaches and solutions. We continue to see the direct results to our bottom line."
Supporting The Causes Nearest To Their Peoples' Hearts
Clark Wilson is passionate about community and giving back to the organizations that mean the most to their people. As a group of socially conscious individuals, the respect and care they demonstrate towards people is just another reason why this is a great place to work.
As an organization, they engage with United Way and sponsor their annual Period Promise campaign, Covenant House, Canadian Mental Health Association, YWCA, Westcoast LEAF, Make-A-Wish Foundation, VGH and UBC Hospital Foundations, Orphaned Wildlife Rehab Society, Access Pro Bono's Free Legal Advice-a-Thon, and many others through their Clark Wilson Cares Program.
"We created a donation matching program for employees who contribute to charities and non-profits. The purpose is to help stretch those gifts and create greater impact for these organizations, while also supporting the causes that our people care about the most" adds Speakman.
The Bottom Line
At Great Place to Work, we've spent the last 3 decades obsessing over what makes a workplace great. We've certified 10,000 organizations around the globe and those that standout have one thing in common: they all have a huge "care factor" to their culture. Industry leaders like Speakman at Clark Wilson understand that creating a positive, caring workforce makes for more engaged team members, meaningful workplace relationships, and higher profits for organizations.
About Great Place to Work®
Great Place to Work® is the Global Authority on Workplace Culture. We make it easy to survey your employees, uncover actionable insights and get recognized for your great company culture. Learn more about Great Place to Work Certification.
---