By Catherine Yoshimoto and Marcus Erb.
Every organization has struggled in some way over the past 12 months. But there is one factor – irrespective of a company's size or sector – that is helping determine whether they are thriving or just surviving in the face of Covid.
We know anecdotally – and instinctively – that companies with a good workplace culture must be better equipped to deal with a global shutdown that has forced millions of people to adapt to radically new ways of working. Employees needed clear, consistent and caring leadership more than ever and companies are likely to see the benefit as more people flock to work there and are more productive when they start each morning.
The question is how can we measure the impact of this good culture on a company's financial performance?
To test the idea, we looked at company rankings compiled by Great Place to Work, the global authority on workplace culture which puts together the annual Fortune 100 Best Companies to Work For®, and alongside it created a hypothetical index using data from FTSE Russell, the global index and data provider.
We had a hunch there would be a correlation but the result was clearer than we ever imagined. Our new "100 Best index" outperformed the broader market by 16.5% in 2020, returning 37.4% compared to a 20.9% return for the Russell 3000® Index – the broadest benchmark index for US stocks.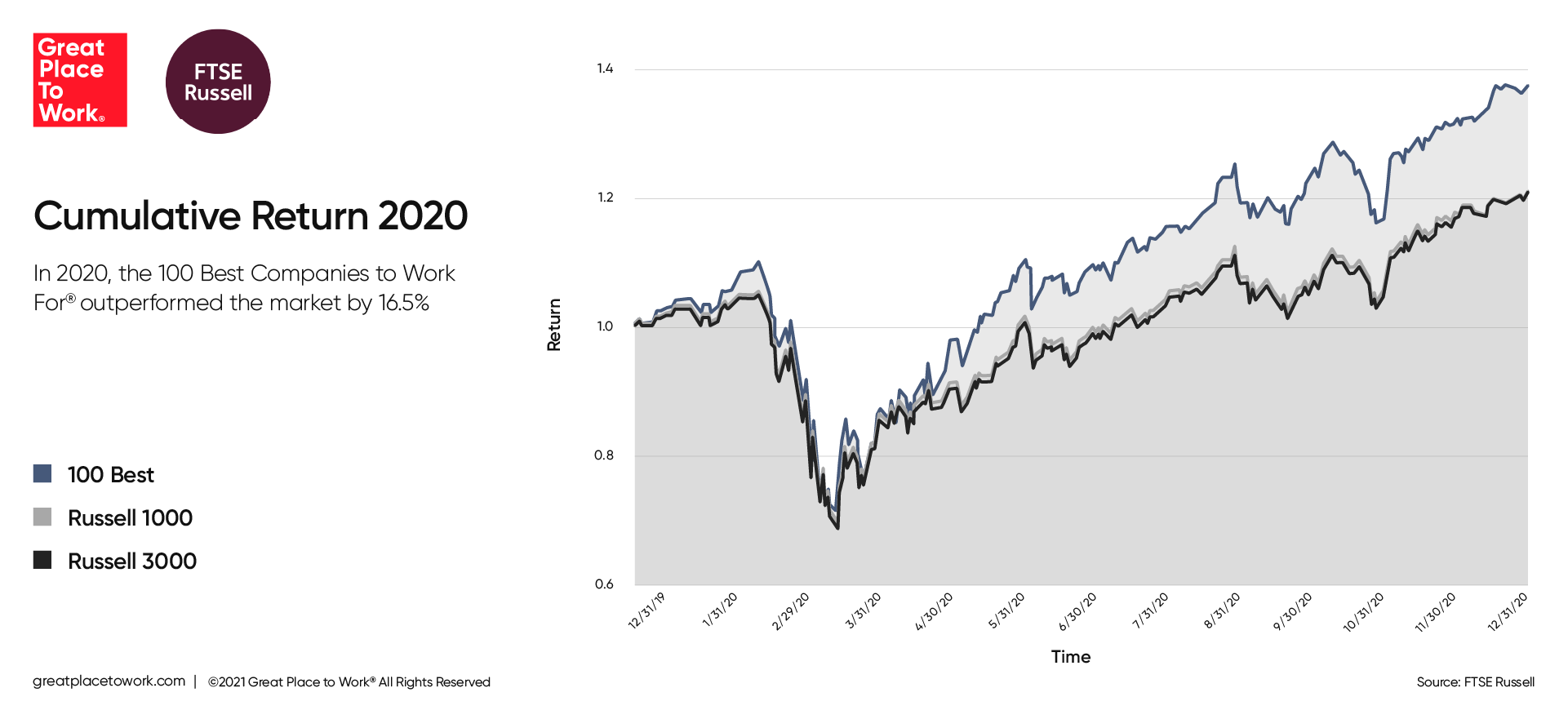 The 2020 performance bump mirrors a long-term trend of similar outperformance – the 100 Best index has had a cumulative return of 1,709% since 1998, as compared to a 526% return for the Russell 3000 Index for the same time period.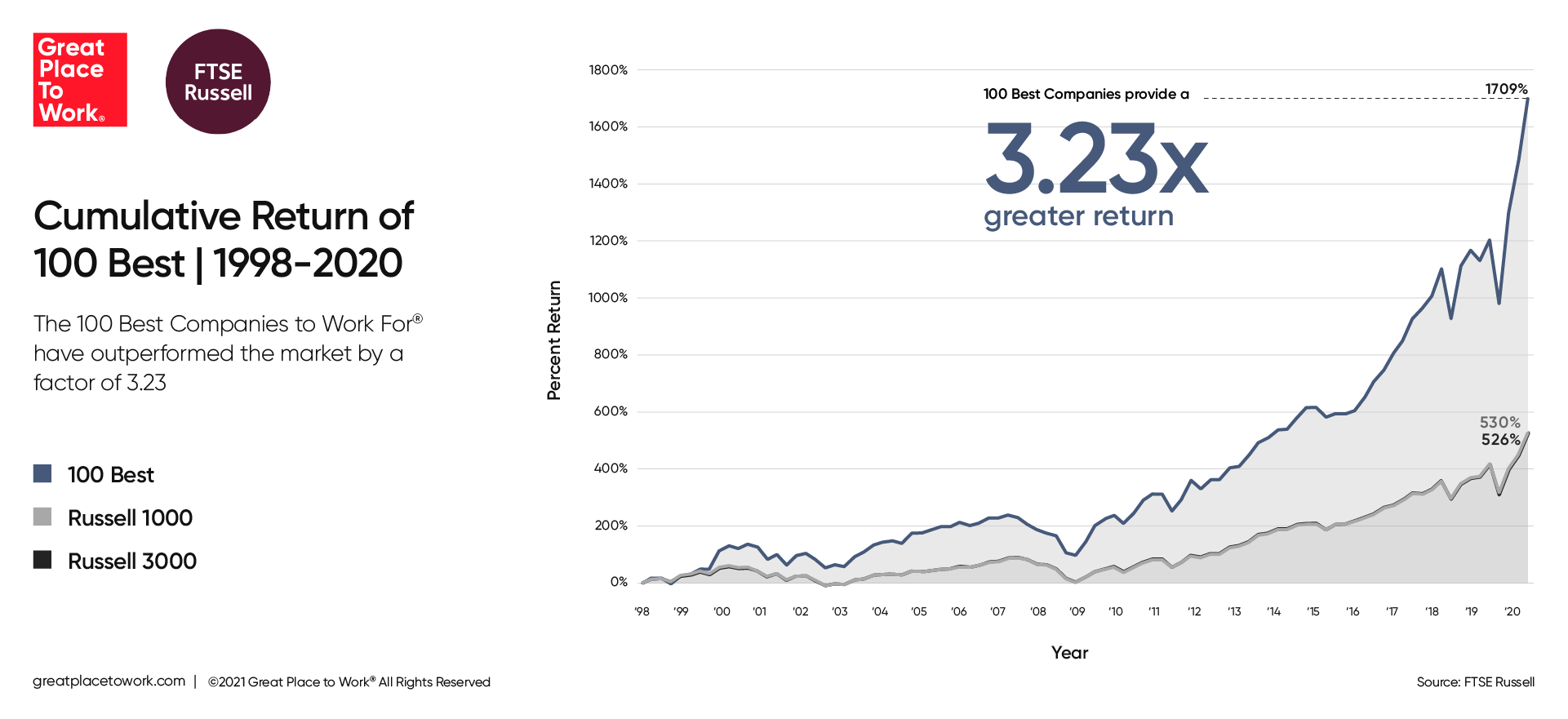 Behind the numbers: hard data and human insights
The 100 Best index combines the time-tested and well-respected methodology of two global leaders in their respective fields. FTSE Russell refreshes its hypothetical index each year on January 1 with the "100 Best" list of publicly traded US companies the previous year, while equally weighting the index across companies to ensure even representation.
Great Place to Work compiles its 100 Best Companies to Work For list through America's largest ongoing annual workforce study, which draws on Great Place to Work's 30 years researching workplace culture globally.
The 60-question survey is designed to measure companies on various factors, including employees' ability to reach their full human potential, how employees experience company values, their ability to contribute ideas and their perception of company leader effectiveness.
Most remarkably, in 2020, the 100 Best broke records on measures of leadership credibility. Employees scored their leader's trustworthiness the highest ever in Great Place to Work's 33-year history of studying company culture.
Under the most challenging conditions of COVID-19 and racial injustice, overall employee experience scores improved compared to 2019 thanks to great supervisors, mid-level managers and executives.
"The ability to perform work from home is not the common denominator among this year's 100 Best Companies," said Michael C. Bush, CEO of Great Place to Work. "Instead, they shared a widespread faith in leaders committed to making things better for people – ALL people."
"What inspires better employee engagement is when no matter who a person is, what pronoun they use (or don't) or what they do for the company, all of these employees trust their leaders. Secondly, they feel their work positively impacts their customers and the broader social and physical environment," said Michael.
The value of company culture based on positive employee experience
A wealth of research supports the notion that successful companies are propelled forward by happy employees. Company culture rooted in trust, transparency and caring helps give people clarity and a sense of purpose leading to higher employee engagement, better customer service, greater innovation and strong business results.
While company stock performance cannot be linked solely to company culture, the recent and long-term performance of the 100 Best index relative to the broad index begs a number of questions and certainly advances the argument for making workplace culture a central part of any organizational strategy.
The impressive relative long-term performance for the 100 Best index since 1998 suggests that employer branding and company culture, as experienced internally by employees and externally by investors, can make a substantial difference in company stock performance over time.
In addition, the significant outperformance by the 100 Best in 2020, as the world faced a year of lockdowns and struggled with the impact of the global pandemic, suggests that companies that have treated their employees well historically tend to fare well during difficult times.
In fact, we observed a similar trend during the global financial crisis of 2008-2009, when the 100 Best index outperformed the Russell 3000 Index.
A fair, caring and supportive culture strengthens businesses because employees feel trusted and empowered to do their best work, whatever the external factors may be. While this is a lesson companies should certainly implement for the bad times, it will be just as valuable in the good days to come.
Create a company culture that is better for business
Time and time again, the data shows us how treating employees well is better for all stakeholders. Reach out to us about how we can help you create a culture that puts you ahead of other organizations.
About Great Place to Work®
Great Place to Work® makes it easy to survey your employees, uncover actionable insights and get recognized for your great company culture. Clients apply our insights, advice, and tools to fuel the vision, decisions and actions that drive business performance.

Learn more about Great Place to Work Certification.
---