Great Place to Work® is pleased to announce the list of Best Workplaces in Canada for Part-time Employees! To be eligible for this list, organizations must be Great Place to Work®-Certified™ in the past year and have a minimum of 50 part-time employees. We determined the BEST based solely on levels of trust experienced by their part-time workforce.
Great Place to Work publishes a series of Best Workplaces lists based on feedback from more than 300,000 employees at Great Place to Work–Certified™ organizations across all industries in Canada. Employees complete an anonymous Trust Index© survey, answering questions about how frequently they experience behaviors that create a great workplace, including, the transparency of communication, degree of collaboration, quality of benefits programs, opportunity for professional development, and support for work-life balance. If 7/10 employees respond positively to the survey, the organization becomes Great Place to Work-Certified™ for one year. Results from the survey are highly reliable, having a 95% confidence level with +/- 5% margin of error.
PART-TIME ON PURPOSE
According to Statistics Canada, most of last year's job growth was related to part time work. Canada added 153,700 net new part-time jobs last year and just 60,400 full-time positions1 – a marked shift from previous years where the bulk of job growth was related to full-time positions.
While Canadians have traditionally viewed full-time work as the holy grail, times are changing. At the end of 2016, 19.2% of Canadians were employed part-time. Just a quarter of those were doing so because they could not find full-time employment; the other three quarters were working part-time by choice.2
Why Canadians are Working Part-Time?2: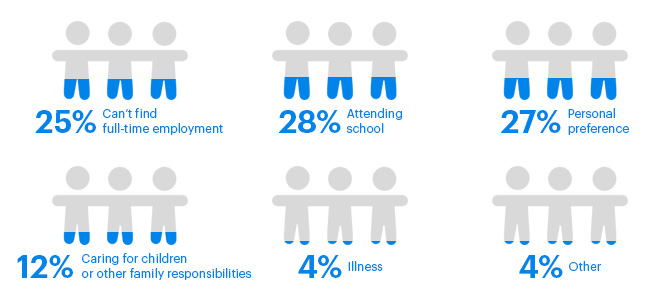 So in today's age of double income families, what's the appeal of part-time employment? An inside look at Canada's Best Workplaces for Part-time Employees will shed some light.
FROM PART-TIME JOB TO PROFESSIONAL CAREER
A young college student takes on a serving job to put herself through school. Does she really think she will be in it for the long haul? According to Anna Grolle, Director of Corporate Operations and HR for Cactus Restaurants, this situation is getting more and more common. "When people come to Cactus for part-time work, what they don't realize until they are here is they can land an amazing career for themselves full of possibilities". At Cactus, the best managers are home grown. Over 2/3 of their employees are part-time, many of them students, working flexible shifts in front of house or back-of-house positions. Some will move on to other careers after graduation, but an increasing number "fall in love" with the culture and will be encouraged to take on some type of leadership role. Employees can progress from server to shift leader to manager to GM, with much of the training provided through Cactus University!
At JOEY Restaurants, opportunities for development are equally available to both part-time and full-time partners. According to Georgina Boyne, Manager, Human Resources, "We have a performance-based environment, and the organization invests in all people who show the aptitude, whether they are working 3 or 5 shifts a week". JOEY's coaching culture is evident at all levels of the organization, and it guides conversations, leadership and management practices. Every manager in the organization participates in coach training and every employee (from entry level to the most senior executive) has access to a trained internal coach to help them grow and continually master their craft. JOEY Restaurant also offers an industry leading Culinary Apprenticeship Program, ultimately leading to Red Seal Certification. For the duration of this 3 year program, JOEY provides tuition reimbursement, one-on-one coaching and plenty of practice time. Whether a partner wants to stay at JOEY for 6 months or 6 years, the organization will prepare them for their next role.
At H&M, their strong development culture is referred to as the 'Place of Possible'. By hiring people who are fans of H&M and love fashion and retail, they are ensuring that their Sales Advisors are a pipeline for Management positions. All new H&M employees including new part-time Sales Advisors receive 16 hours of in-store training with a Sales Coach, plus access to H&M's online learning portal called GROW; where they can work at their own pace to develop skills for a lifetime such as giving and receiving feedback , presentation techniques and leadership skills. H&M offers unique perks to keep their part-time Sales Advisors interested and engaged, including having their birthday off and paid by H&M. In addition, Sales Advisors have the opportunity to travel and support new store openings across the country and participate in an in-store garment collecting program that diverts thousands of lbs of clothing from landfills! (Did you know both employees and customers can bring in a bag of retired clothes to any H&M store for an in-store voucher?)
PERKS FOR PART-TIMERS
At the Best Workplaces for Part-time Employees, many part-timers enjoy the same perks and benefits as their full-time counterparts. At retailer L'Occitane En Provence, part-time employees working 15+ hours per week are eligible for medical and dental coverage, a 50% employee discount, a $250 wellness budget each year, a baby basket for new parents, a paid day off to get married and on their birthday, a $100 giftcard to the store! Why these generous benefits for part-timers? At L'Occitane, the reason is simple: part-time employees make up over 50% of their workforce and are in primarily customer facing roles. Keeping these employees happy and engaged reduces costly turnover translates into better customer service.
THE BALANCING ACT
Part-time employment is on the rise in non-traditional fields as well, with an increasing number of professionals transitioning from full-time to part-time as their life situation dictates. Professional Services Firm EY offers part-time as an option to help people balance work and life. Development Consultant Muriam De Angelis says "Giving our people the option to work-part on flexible work arrangements is one way our people utilize flexibility to meet their personal and professional goals and is one way that EY sets itself apart from other professional services organizations".
HERE TO STAY
In today's global and rapidly changing workforce, the part-time trend is expected to continue. Younger generations are comfortable managing multiple careers simultaneously, as long as they have opportunities for personal and professional growth. The part-time workforce helps organizations tap into this talent pool and respond to external market forces, scaling up and down quickly as needed.
THINK YOUR ORGANIZATION IS A GREAT WORKPLACE?
Register today to become Great Place to Work-Certified™. Get recognized for the outstanding culture you've built or let us help you create a more productive work environment.
ABOUT GREAT PLACE TO WORK
GPTW (www.greatplacetowork.ca) is the global authority on high-trust, high-performance workplace cultures. Through proprietary assessment tools, advisory services, and certification programs, GPTW recognizes the world's Best Workplaces in a series of national lists including those published by Fortune magazine (USA) and The Globe & Mail (Canada). Great Place to Work® provides the benchmarks, framework, and expertise needed to create, sustain, and recognize outstanding workplace cultures.
Follow GPTW online at www.greatplacetowork.ca and on Twitter at @GPTW_Canada
REFERENCES
1. http://www.statcan.gc.ca/daily-quotidien/170106/dq170106a-eng.htm
2. http://www.statcan.gc.ca/tables-tableaux/sum-som/l01/cst01/labor63a-eng.htm
---