The employee experience is one of the strongest predictors of long-term business results. Here's why.
When you invest in workplace culture, your business is more profitable.
Employees with consistently positive experiences in the workplace are more likely to stay with the organization. They experience less burnout, give higher levels of effort, and drive faster rates of innovation.
The cumulative result: Companies with high-trust cultures are more profitable and have higher stock market returns.
According to research from FTSE Russell, companies that make the Fortune 100 Best Companies to Work For® list outperform the market by a factor of 3.33. Over time, that is a staggering difference.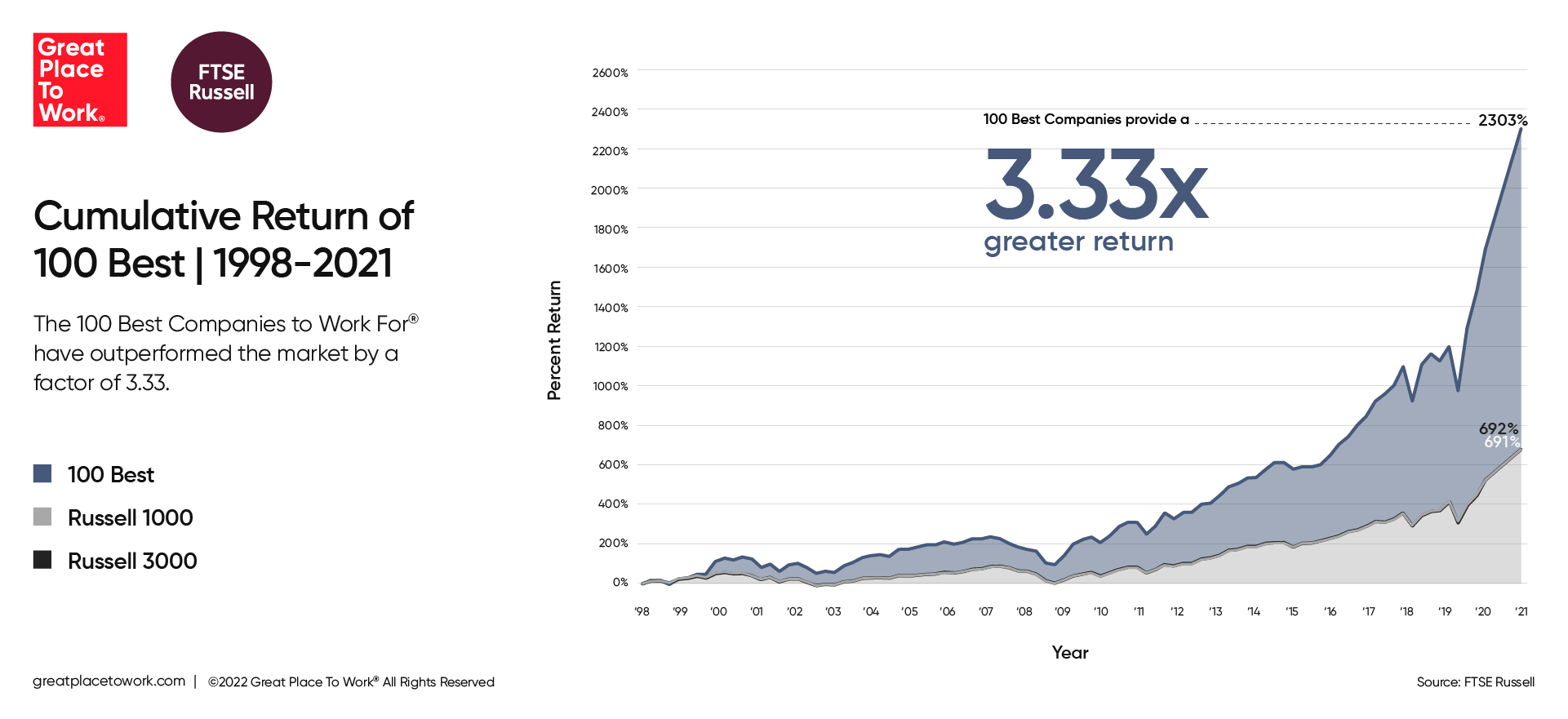 In 2023, recession fears have more companies looking to cut costs. With increasing pressure on business leaders to innovate and grow the bottom line, HR leaders must make their case: Workplace culture is a key predictor of financial success, in recessions and for years afterwards.
Here are five ways the data proves workplace culture drives profit:


1. Great workplaces have higher retention rates.
Companies that make the Best Workplaces in Canada — the flagship recognition list produced by Great Place To Work® each year — experience half the turnover of their peers.
That turnover can be incredibly expensive. For example, at the typical hospital in 2022, losses in nursing staff cost between $5 and $9 million.
High-trust culture also helps companies recruit top talent. For the Best Workplaces in Canada, employees are six times more likely to recommend their employer to others.
Even in a cooling economy, sourcing talent costs big money. According to the Society for Human Resources Management (SHRM), a company spends an average of $4,700 per new hire.


2. Great workplaces have lower levels of burnout.
Worried about productivity? Workers who are burned out might be "quiet quitting" rather than helping you reach crucial business goals. Or they might be actively seeking their next job.
Researchers argue that workplace stress costs the U.S. economy $500 billion. Workers who report burnout are 2.6 times as likely to actively seek a different job, 63% more likely to take a sick day, and 23% more likely visit the emergency room.
Profits don't create great workplaces. It's the other way around.
What about high-trust culture keeps employees from burning out? In research on working parents, Great Place To Work found that companies who could offer these employees a psychologically safe and healthy work environment, and demonstrate care, saw fewer working moms and dads burnout and quit. Four in five working parents at these companies wanted to stay with the organization, saving labor costs.


3. Great workplaces innovate faster.
When employees trust their employer, they work harder, contribute more, and drive higher levels of innovation and productivity.
In Great Place To Work research, the highest levels of innovation occur when every employee is empowered to participate — "Innovation By All." For companies where higher numbers of employees report innovation and inclusion, median year-over-year revenue growth is more than five times higher than companies in the bottom quartile for connecting employees to innovation.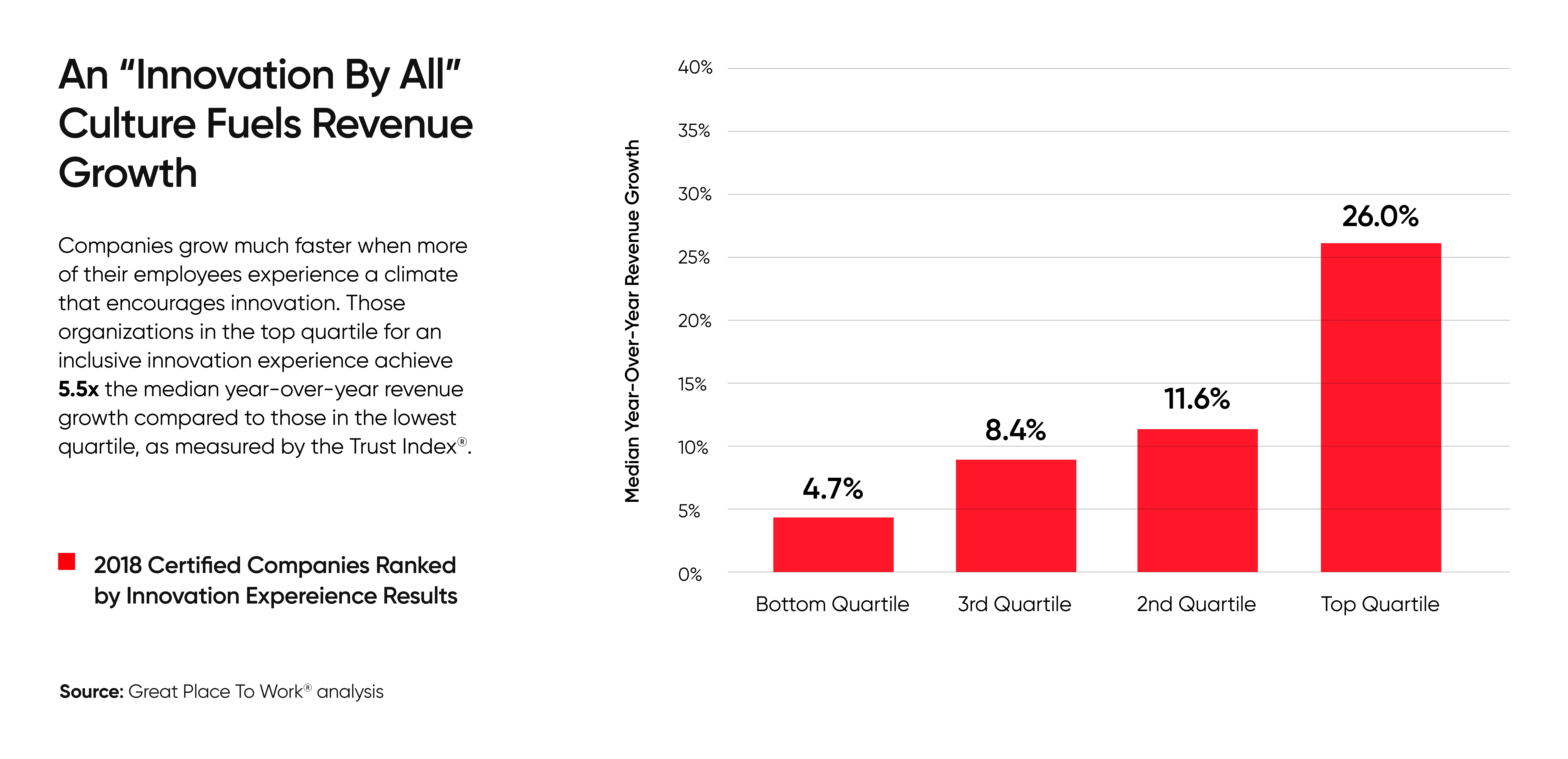 When workers agree that their colleagues adapt to change, that they look forward to coming to work, and that management seeks out new ideas, business results follow.
But it matters who is being left out.
Every survey will have a percentage of employees who are not having a positive experience. What should alarm business leaders is when certain categories of workers report having disproportionately worse experiences.
Are your front-line employees being excluded from the broader mission of the organization?
Do women managers feel as supported and celebrated as their male colleagues?
Do all races, ethnicities, gender identities, and LGBTQ+ folks feel like they can bring their full selves to work?
If the answer is no — or even "I don't know" — you don't have an "Innovation by All" culture. With the best organizations seeing their revenue grow 550% faster than less inclusive organizations, it's expensive to leave workers behind.


4. Great workplaces rebound faster from a recession.
Who your workplace culture leaves behind matters even more during a recession.
Great Place To Work research identified five groups of workers whose experience in the workplace drove performance over the past 15 years, including The Great Recession from 2007 to 2009:
Women
Front-line workers
Hourly male workers
Long-tenured employees
People of color
If these employee groups reported that they were treated as a full team member, felt welcomed when joining a new team, and saw management as honest and competent, the company thrived.
A group of 69 companies that researchers identified as "thriving" didn't follow the 35.5% stock decline of the S&P 500 from 2007 to 2009.They saw an increase of 14.4%.
After the recession, these thriving companies continued to beat expectations. The S&P 500 recovered from 2006 with a 9% gain by February of 2014, but the thriving companies gained 35%.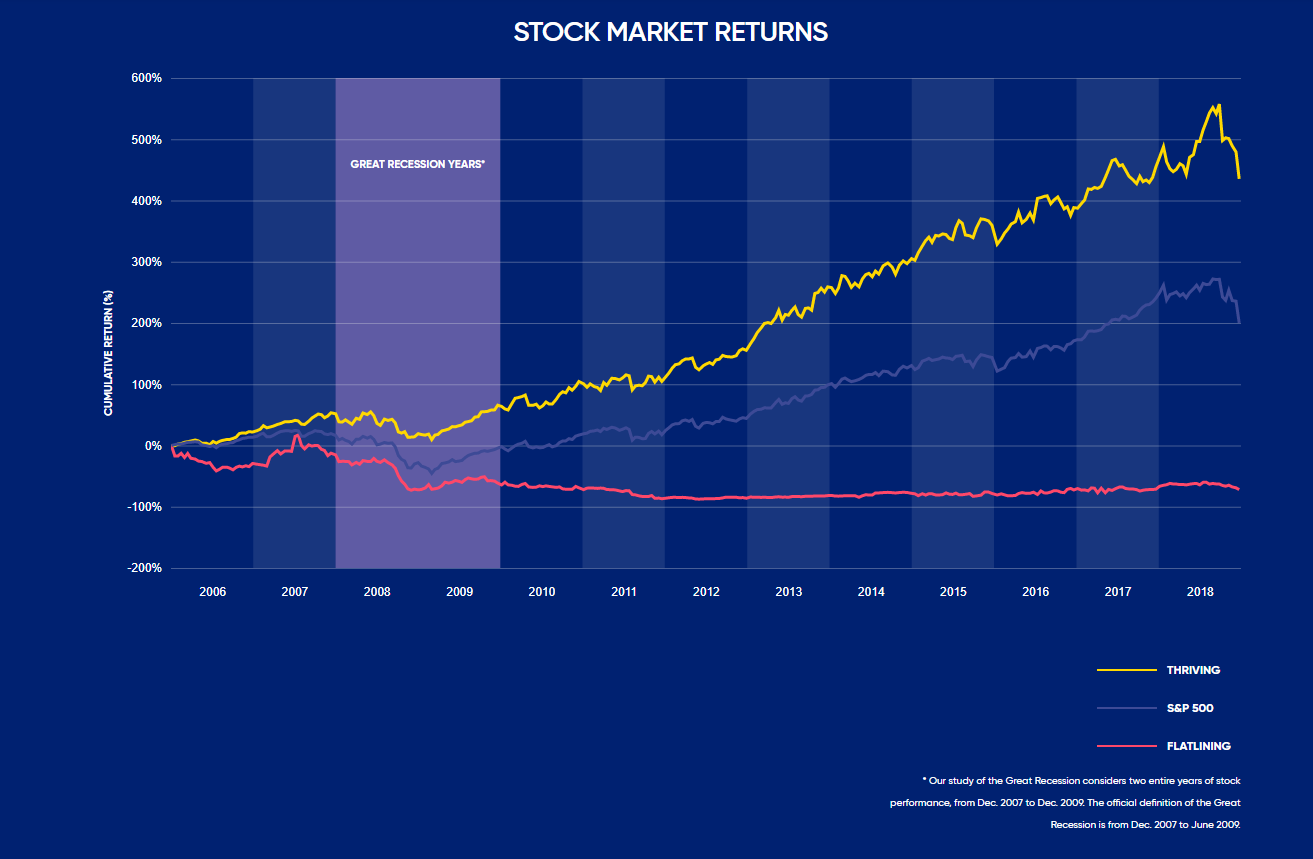 What about in the wake of the COVID-19 pandemic? Almost every organization struggled to meet the demands of the global crisis that began in 2020, but companies with high-trust cultures rebounded the fastest.


5. Great workplaces have higher stock returns.
It's not just short-term cost savings that make a great workplace culture so valuable to businesses. Research from Alex Edmans of the London School of Economics shows investing in workers leads to long-term business success.
Edmans analyzed the history of the 100 Best Companies lists from 1984 to 2009. Controlling for firm size, industry, past returns, and many other variables, Edmans demonstrated that companies on the list outperformed the stock market by 2% to 3% per year.
With the best organizations seeing their revenue grow 550% faster than less inclusive organizations, it's expensive to leave workers behind.
But isn't employee well-being just an indicator of running a profitable business? The more money you make, the more perks and benefits you can offer alongside inflated salaries, right?
Not quite.
Treating employees well doesn't just correlate with higher stock returns, it predicts future performance. It takes four to five years before the market catches up to the value of employees' job satisfaction.
Profits don't create great workplaces. It's the other way around.



---