Great Place to Work is pleased to announce the 2020 list of Best Workplaces for Women. To be eligible for this list, organizations must be Great Place to Work- Certified™ in the past year, have a minimum of 15 female employees, and at least 90% of employees must agree that people are treated fairly, regardless of their gender. We determined the BEST based the overall Trust Index score from female employees.
With females representing close to 50% of the Canadian workforce, it's time that our workplaces became truly equal and inclusive: what we call a #FORALL workplace. Creating great workplaces for women isn't political or trendy, and it's not a women's issue. It's a business issue. Our research shows that when women have a great experience at work, their male colleagues are more likely to have a great experience, too. And trust seems to be the insulating factor.
At the Best Workplaces in Canada – those recognized for high levels of trust - women and men have a similar experience of the workplace overall, but with some notable differences: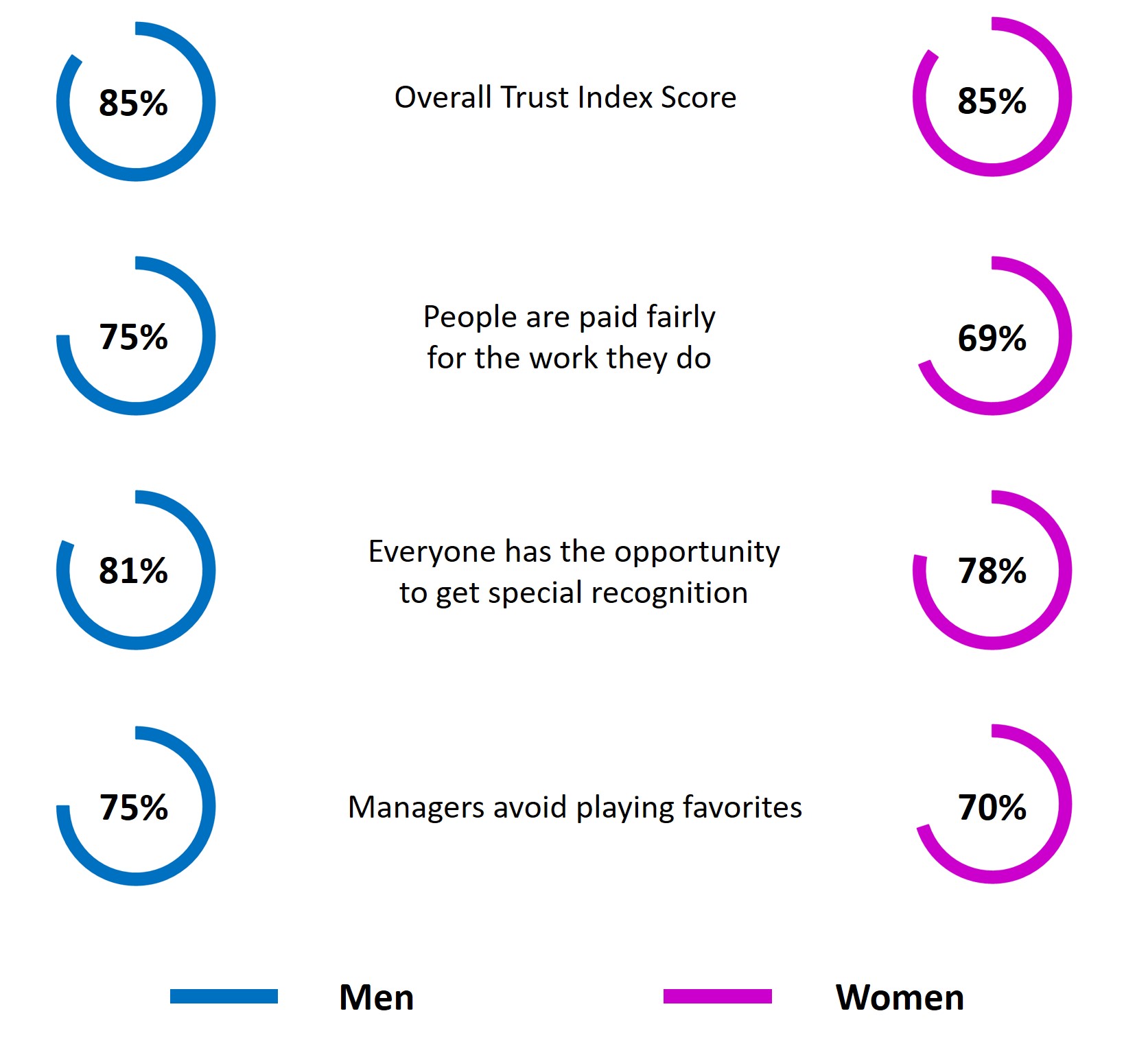 But at 'regular workplaces', the situation is a little more divided: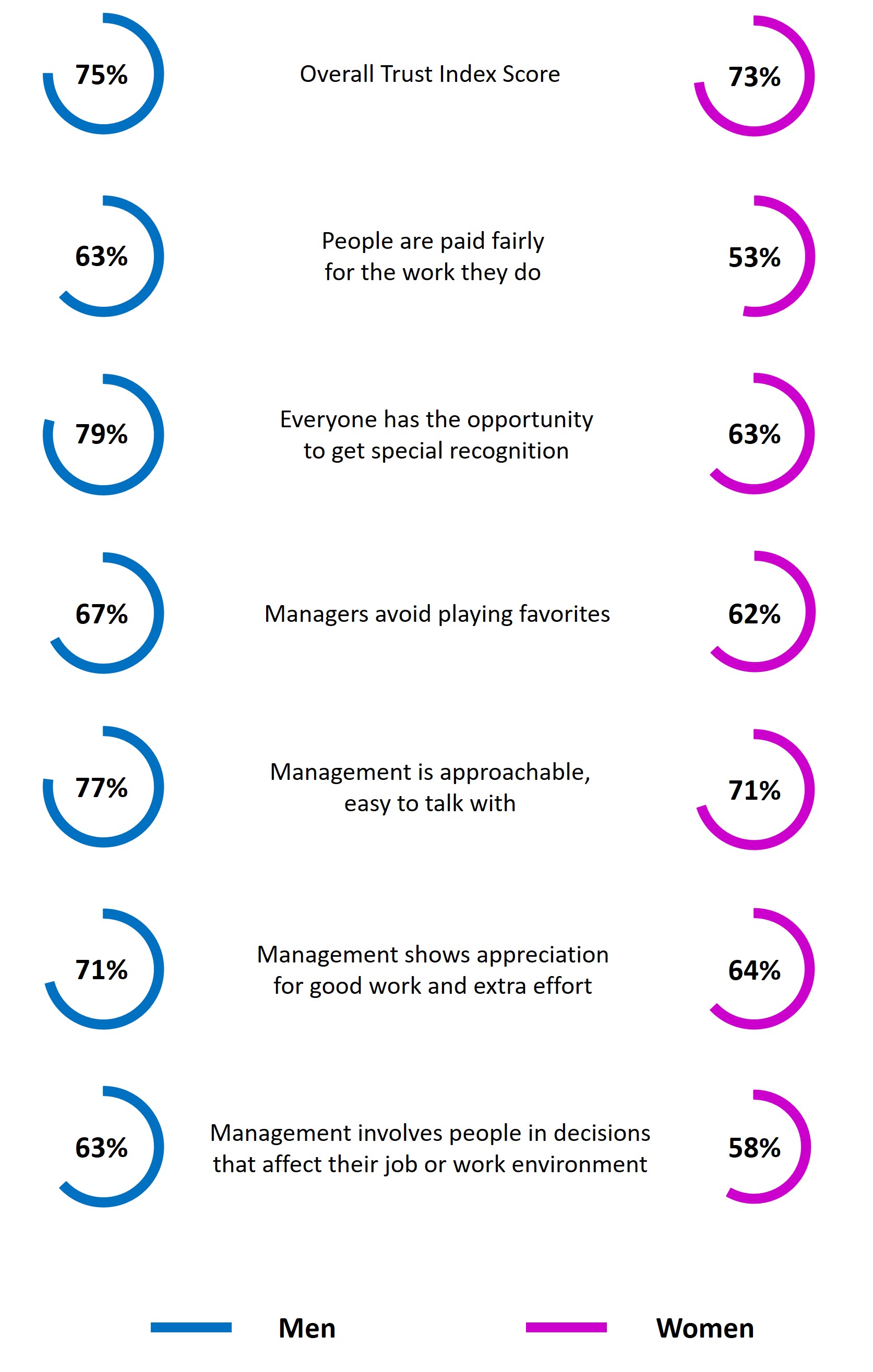 Closing the gender gap is not just about pay, it's about how women and men experience the workplace every day. It's about having equal access to communication and face time with leaders, equal access to recognition and promotions, equal opportunity to voice one's opinion at work. It is not so much about work life balance – that is important to everyone!
How you can create a great place to work for women
Establish clear expectations and criteria for advancement
Ensure that it is universally understood how promotion criteria apply to employees across the company. When leadership does promote someone, they should be able to point to the criteria they had previously set as the foundation of their rationale.
Provide opportunities for exposure to leadership and people across the organization
This way, employees can showcase their unique talents to everyone, not just their boss. They can contribute from a big picture perspective and get exec-facing time outside of the confines of their direct team.
Foster employee growth
Leaders should give projects not only to people who will "get the job done" but to team members who need to take on these projects as a means for growth. For those employees who miss out, they need to be shown a clear path to getting that project in the future.
Think your workplace is great for women?
Register today to become Great Place to Work Certified™. Get recognized for the outstanding culture you've built or let us help you create a more productive work environment.
About our lists
Great Place to Work® publishes a series of Best Workplaces™ lists based on feedback from more than 300,000 employees at Great Place to Work Certified™ organizations across all industries in Canada. Employees complete an anonymous Trust Index© survey, answering questions about how frequently they experience behaviors that create a great workplace, including, the transparency of communication, degree of collaboration, quality of benefits programs, opportunity for professional development, and support for work-life balance. If 7/10 employees respond positively to the survey, the organization becomes Great Place to Work Certified™ for one year. Results from the survey are highly reliable, having a 95% confidence level with +/- 5% margin of error.
About Great Place to Work®
Great Place to Work® is the global authority on high-trust, high-performance workplace cultures. Through proprietary assessment tools, advisory services, and certification programs, GPTW recognizes the world's Best Workplaces™ in a series of national lists including those published by The Globe & Mail (Canada) and Fortune magazine (USA). Great Place to Work® provides the benchmarks, framework, and expertise needed to create, sustain, and recognize outstanding workplace cultures.
Don't miss any of the latest, most valuable news and research on people management in Canada: Sign up for our newsletter, or follow us on LinkedIn and Twitter.
About Great Place to Work®

Great Place to Work® is the Global Authority on Workplace Culture. We make it easy to survey your employees, uncover actionable insights and get recognized for your great company culture. Learn more about Great Place to Work Certification.
---